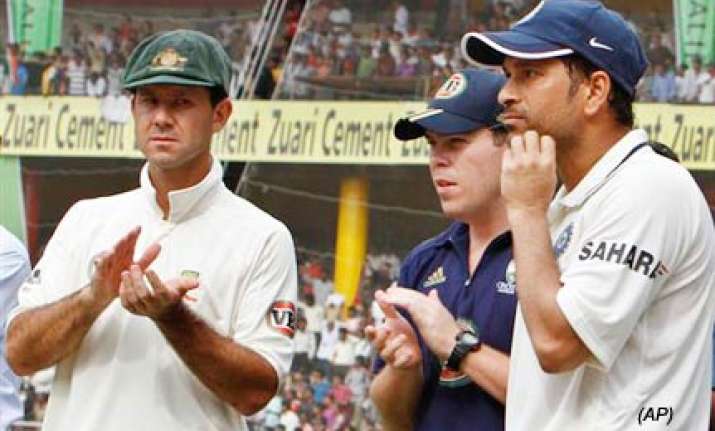 Sydney: Australia's skipper Ricky Ponting has said that his inability to play big match winning innings like Sachin Tendulkar made the difference between the two sides, with India winning the series 2-0.
The seven-wicket loss to India in the second Test at Bangalore confirmed how great an opportunity Ponting's side had missed when they were unable to close out the first Test at Mohali.
Ponting scored 224 runs at the average of 56, which is his best and most consistent in some time, but failed to play a big innings despite crossing the 50 runs mark three times.
Ponting contrasted his return with that of man of the series Sachin Tendulkar, who scored 403 runs and made 214 in Bangalore, the most important innings of the series even if VVS Laxman's miraculous 73 at Mohali was arguably the best.
"I don''t feel like I did my bit with the bat. A No.3 batsman, when you get in and make 60 or 70, you expect to go on and make big scores. Tendulkar did it, he went on to make 200," The Sydney Morning Herald quoted Ponting, as saying.
"If I had've made 200 in the first innings, the result might have been different. We've all got to be harsh on ourselves. Three out of the four innings in the 70s isn't good enough from me. I know that," he said.
"I was really disappointed and down last night to have gotten out late in the day when I was batting as well as I ever have in India. I'm as disappointed with the way I played as anybody else. When you get those starts, you have to capitalize," Ponting added.