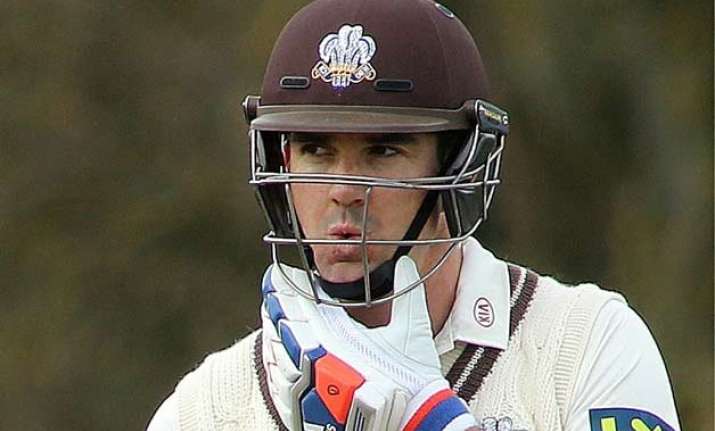 London: Kevin Pitersen's disappointing cricket saga continued after the star batsman was ruled out of an IPL return with a calf and Achilles injury that he picked while playing for his county Surrey. 
After new ECB director Andrew Strauss shut the doors on the swashbuckling batsman citing "trust issues", Pietersen's IPL franchise SunRisers Hyderabad was happy to announce that the high-profile player will join the side on Friday and be available for Sunday's game. 
Even Pietersen was excited to join the David Warner-led side at the business end of the cash-rich T20 tournament, but the injuries have forced him out of action for two weeks, according to a BBC report. 
Later in the evening, Pietersen's franchise SunRisers Hyderabad issueda statement confirming the development.
"SunRisers Hyderabad hereby confirms that Kevin Pietersen will not be able to take part in the team's further proceedings of Pepsi IPL campaign this year due to a calf injury. Pietersen who was all set to join David Warner and team has been ruled out for two weeks due to an injury that he picked up while playing for his county team," Sunrisers Hyderabad said in a statement. 
The South Africa-born batsman, who has not represented England since he was sacked in February 2014, was bought by Hyderabad for 20 million Rupees in season-eight auctions. 
However, incoming England and Wales Cricket Board chairman Colin Graves said Pietersen could be in contention for an international recall if he joined an English county and scored enough runs. 
As a result, the right-hander pulled out of the SRH deal and signed for Surrey, although he would still be contracted to play in the later stages of the IPL. 
Despite Pietersen's highest score of his career - 326 not out, he was again blocked from returning to the national side and Pietersen reacted by saying that he is "angry and hurt", accusing the ECB of being "deceitful". 
Meanwhile SRH, who have made it to the top-four of the points table, have a strong chance of making it to the play-offs and the eye the final on May 24.