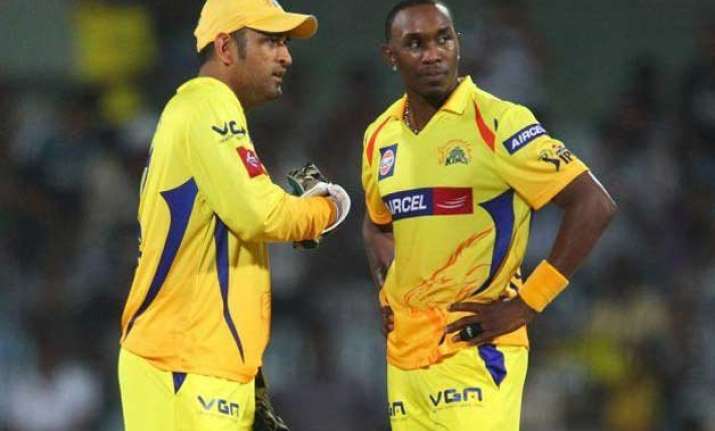 Chennai: Chennai Super Kings (CSK) all-rounder Dwayne Bravo said on Wednesday that his team believes they can pull off victory from any situation in an Indian Premier League (IPL) match.
He also praised skipper Mahendra Singh Dhoni as "one of the best captains in the world".
Chennai Super Kings beat KKR by two runs here on Tuesday to remain at the summit spot in the standings with 12 points from seven matches. They scored a meagre 134 for six after being sent in to bat but bowled brilliantly to restrict KKR to 132 for nine.
"We are led by one of the best captains in the world and he always keeps encouraging us all. That's the thing with CSK, we believe we can win from any situation," Bravo was quoted as saying by iplt20.com on Wednesday.
When asked about the secret behind CSK not panicking in tough situations during IPL matches, the West Indian said: "We have a very level-headed captain and coach. In our team we have four international captains and that helps too."
"We have been in such positions before and we know how to get ourselves out of it. It is good to not play our best and still win the game. It is a good sign for us," he said.
Bravo disclosed that skipper Dhoni's inspiring pep talk during the innings break motivated CSK to defend the small total of 134.
"What he said was very, very important. He said, 'on this surface 180 can be a not so good score but 135 can be a very good one. It is up to us how we defend it'. That made a lot of sense. We expected them to come hard at us in the first six overs and getting that early wicket (of Gautam Gambhir) was the most important thing," he said.
"At no point did we feel like we were going to win easily because they bat really deep and have some big-hitters lower down the order. But the boundary on one side here is very big and it is not a wicket where you can come in and blast it around," Bravo said.