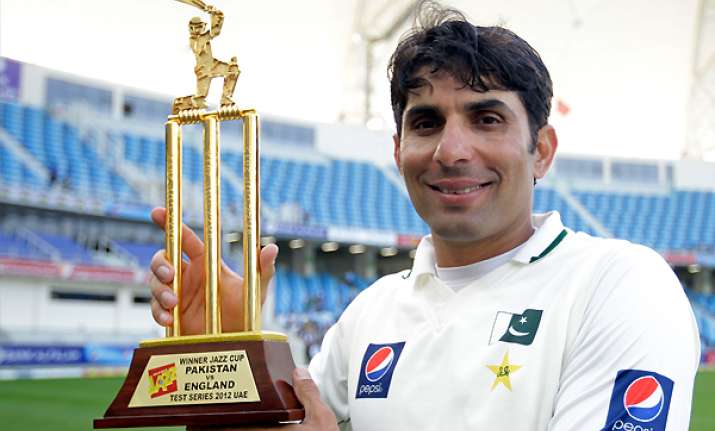 Dubai, Feb 7: Captain Misbah-ul-Haq wants Pakistan to be recognized as a power in world cricket after leading his country to its first ever clean sweep against England in a test series on Monday.

Few gave Misbah and his team much of a chance against top-ranked England as Pakistan's recent test successes had come against lowly-ranked Zimbabwe and Bangladesh, along with a Sri Lanka team in transition.

But Pakistan never let England settle against their spin duo of Saeed Ajmal and Abdur Rehman once Andrew Strauss' side was reduced to 5-43 before lunch on the first day of the first test last month.

"I think the team showed the world again that we are a power in this cricketing world ... now it's time to give importance to the Pakistan team again," Misbah said.

Such was the dominance of Ajmal and Rehman, who bagged 24 and 19 wickets respectively, that none of the three tests lasted the full five days. England lost the first test inside three days by 10 wickets, before losing the second and third by 72 and 71 runs respectively inside four days.

The success also further vindicated the decision to hand the captaincy to Misbah — a business graduate — after three of Pakistan's cricketers were found guilty of spot-fixing during a test match against England in 2010.

The 37-year-old has transformed the team since then into a well-knit unit, winning nine of its last 15 test matches and drawing five. The only loss came in the West Indies.

"That was a big ask for a team to come out of such problems," Misbah said of the spot-fixing scandal.

As for the 3-0 drubbing just handed out to England, the Pakistan captain made it clear he had not anticipated that England's renowned batsmen would struggle so much on the slow wickets of Dubai and Abu Dhabi.

None of the three recognized middle-order batsmen — Ian Bell, Kevin Pietersen and Eoin Morgan — crossed the 100-run mark in six innings, while the top score of the series came from wicketkeeper Matt Prior, with 161.

"We were expecting that they were going to have problems here, because of the slowness of the wickets," Misbah said.

"But we were not expecting that these sort of results will come. I think our spinners were outstanding and outclassed their batting lineup."

Misbah now wants Pakistan to face more of test cricket's bigger teams.

"Our performance should be recognized ... and now we must be given edge in the international scheduling (of matches)," he said.

"If we go to South Africa and Australia, we just want to do well there and I think these players would now just love to take these challenges."

Closer to home, Misbah said he hoped the impressive triumph over England would also help win support from the International Cricket Council for Pakistan's bid to host major series once again.

Foreign teams have stayed away from Pakistan since gunmen attacked the Sri Lanka team bus in 2009, killing six police officers and a van driver. The United Arab Emirates has since become Pakistan's main 'home' venue.

"You can't keep away a nation from international cricket after this performance," he said. "The whole world, the ICC, the playing nations should think about it and revive international cricket in Pakistan. How long we can play like this?

"Our people are missing international matches and I think not only the world, but the ICC should also think about this."