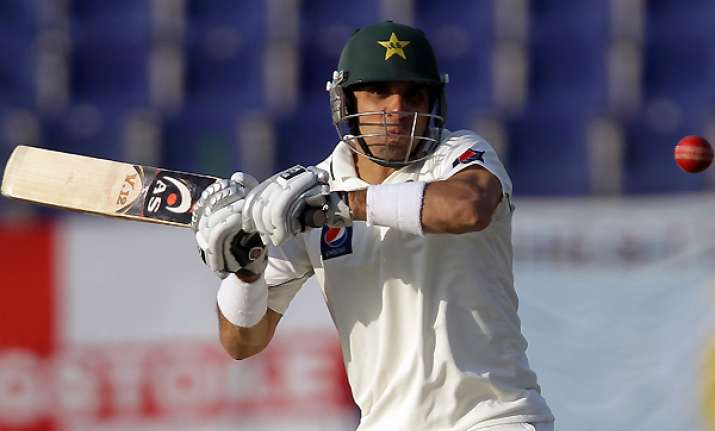 Dubai, Feb 8: When Misbah-ul-Haq was appointed test captain while Pakistan cricket was enduring dark days, only the most ardent supporters could have imagined the dramatic transformation that culminated this week in a decisive series sweep of No. 1-ranked England.

Led by Misbah, Pakistan put the controversy of its spot-fixing scandal of 2010 behind it, along with the suspension and eventual jailing of three players for conspiring to intentionally deliver no-balls at predetermined times in a test against England at Lord's.

The only way Pakistan could have restored its reputation was by performing on the field, and that's what exactly it's done, with Misbah leading his side to nine test wins, one draw and just one loss.

"Only time can tell what you can achieve or what you can do," Misbah said after Pakistan's 71-run win on Monday sealed an historic 3-0 whitewash.

"We just want to do well everywhere and that's what this team is doing at the moment."

Pakistan hasn't played at home since early 2009 when the Sri Lanka team bus was attacked by gunmen in Lahore.

Though Pakistan is yet to be fully tested in South Africa (2013) and Australia (2016), Misbah loves to play on those bouncy wickets to prove a point that Pakistan is not only good against weaker teams or on slow turning wickets.

"We have this challenge in our minds and everybody is just focussing to prove themselves outside Pakistan," he said.

Misbah's self-belief, temperament and confidence has instilled a winning habit in his team and the ability to prove Pakistan has transcended its off-field controversies.

It's a remarkable turnaround in Misbah's career, too. He made his test debut in 2001, but could play only 10 tests until 2007 due to his inconsistent performances.

He got a degree in business management and also won a central contract from the Pakistan Cricket Board after scoring loads of runs in domestic first-class cricket in 2007.

Since then he hasn't looked back. He nearly won Pakistan the Twenty20 World Cup in 2007 and also scored two big centuries on the tour of India before receiving the captaincy in 2010.

The moment England landed last month in the neutral venue of the United Arab Emirates, Pakistan's home away from home, talk of the 2010 spot-fixing scandal was the hottest topic.

But Misbah, and England counterpart Andrew Strauss, urged the world to forget about the past and instead focus on Pakistan's on-field performance.

The spot-fixing talk died down once the tests began, then questions were raised about the bowling action of England boogeyman Saeed Ajmal. None of the onfield umpires — three from Australia and one from New Zealand — raised objections and Ajmal baffled the English batsmen with his doosra and variety.

Misbah is known for backing his players and rewarding winning combinations.

Together with another former captain, Younis Khan, Misbah promoted two youngsters in Asad Shafiq and Azhar Ali to challenge any bowlers anywhere in the world.

Subcontinent-like conditions in the UAE gave Pakistan an edge on slow pitches, and Ali's nearly nine-hour knock of 157 runs on Monday in only his 21st test showed up the folly of England's lauded batsmen.

While Ali's century paved the way for Pakistan's win, Shafiq's first-innings 45 made up almost half of his team's innings total.

The young pair also denied England victory in the second test at Abu Dhabi by sharing an 88-run stand in Pakistan's 72-run win.

"I think this is how the stars are made," Misbah said of the pair, adding the team was "a good blend of seniors and juniors."

"When you have more match-winners (among) 11 players you win such matches."

Barring the occasional fielding lapse, Misbah has forged a well-rounded team capable of making runs and taking wickets.

The spin duo of Ajmal and Abdur Rehman combined to take 43 of a potential 60 wickets against an England that seemed incapable of playing them.

Ajmal, last year's top test wicket-taker with 50 dismissals, has added 24 Englishmen from this series.

Misbah read the conditions and the pitches well at Dubai and Abu Dhabi, but England was a little conservative in its bowling approach.

While three seam bowlers make an ideal combination for conditions in England, Australia, South Africa or even New Zealand, on slow pitches Pakistan showed at least two specialist spinners are needed in the lineup.

Left-arm spinner Monty Panesar performed well in the warmup match against a Pakistan Cricket Board XI, but was sorely missed after England preferred to include three seamers and lone offspinner Graeme Swann in the first test.

Panesar proved his worth with seven wickets in the second test and another seven in the third test.

England has not won away against a major subcontinent team for a decade now, and after losing 3-0 to Pakistan it is still searching for the recipe to counter spin bowling.

Strauss will have two more chances this year to prove his critics wrong when England travels to Sri Lanka next month and India in November.

To achieve favorable results, England batsmen need to support their bowlers. Four scores under 200 in six innings was worrying to coach Andy Flower.

"You do have to be quick learners out here, and generally we have been pretty good in that area," Flower said.

"Unfortunately, our skills against their spinners have not been good enough. We haven't been able to learn quickly enough ... our batting has been under par all the way through."