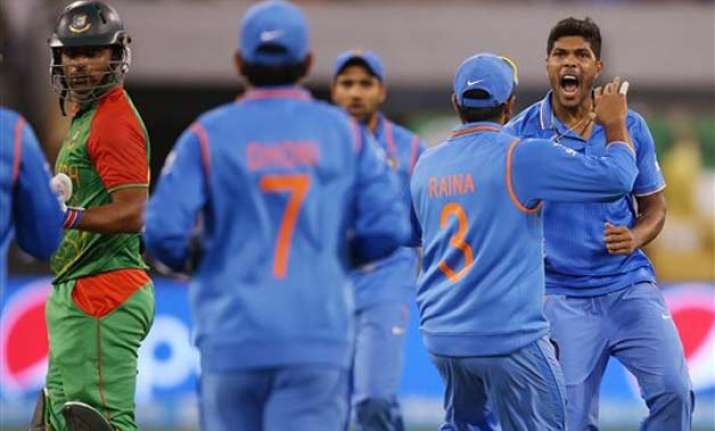 Melbourne: India eye semi-final spot and their real title defence starts with a quarter-final clash against a confident Bangladesh in the ICC Cricket World Cup.
India will take on either Australia or Pakistan in the semi-final at the Sydney Cricket Ground.
Yadav to Sabbir Rahman, OUT, nearly popped out, but the second grab does it.
Sabbir Rahman c Mohammed Shami b Yadav 30 (40b)
Rubel Hossain comes out in the middle .
Mortaza did not trouble the scorers much as he added just a single run to his score.
Mashrafe Mortaza c Dhoni b Mohit Sharma 1
Mortaza comes out in the middle. Hossain struck it  hard and  Ashwin took one hand off the ball as he pouched it. Dhoni on  the verge of another win as captain
Nasir Hossain c Ashwin b Ravindra Jadeja 35(34)
Mohit Sharma bowling some short deliveries to Bangladeshi batsmen
Bangladesh 169/6  after 40 overs
Sabbir Rahman 27    (33)     Nasir Hossain  20   (19)
Bangladesh  need 138 in 66 balls. Tough ask for Bangladesh as the run rate keeps continuously rising up. Dhawan drops a catch of Nasir  , unlucky Ashwin.
Mohammed Shami  is back into the bowling attack. Team India looking to finish the game quikly and going for the kill.Nasir  trying to play an aggresive game.Something to cheer for the Bangladeshi fans in the stadium.
Nasir Hossain is the news batsman for Bangladesh
Umesh Yadav  bowls the short ball which  skids onto Rahim which reaches far too quickly for his pull, takes a leading edge
Rahim c Dhoni b U Yadav 27(43)
Bangladesh batsmen are struggling  to rotate the strike on a consistent basis.
Drinks Break
Bangladesh 139/5  after 35 overs
Mushfiqur Rahim  27 (42)  Sabbir Rahman 14   (21)  
Rahim is fighting a lone battle for Bangladesh.Rahim starting to use his feet now, skips out of the crease and chips it over cover for  couple of runs.Umesh Yadav bowling an impressive spell 25 dot balls out of 32 deliveries.
Bangladesh 107/5 after 30 overs
Shakib OUT Ravindra Jadeja to Shakib,  Caught by Shami
Bangladesh now require a run rate of more than 8 runs per over. The main stay of Bangladesh team are in the middle. Shakib and Rahim have to play a mature innings to take Bangladesh anywhere near the Indian total.
India now playing both thier spinners Jadeja and Ashwin
Bangladesh 95/4 after 25 overs
Indian bowler bowling pretty well 12 dot balls on the trot.Team India a much improved side last 3 wickets are manufactured by fielding brilliance.
Mohammed Shami 17 wickets now leading wicket-taker in the tournament
Shakib Al Hasan comes in at no. 5
Bangladesh 73/3
Mahmudullah c Dhawan b Shami 21 (31)
OUT! Mahmudullah is a goner! A big wicket for India. He goes for a pull. hurried on the pull, top-edges it to fine leg. Dhawan initially run too far forward, but tracked back, tried to take it over his head, but the ball popped out as he was losing balance, he did well to flick it up, go out of the rope and come back in to complete the catch.
Bangladesh 63/2 after 15 overs
Soumya Sarkar 11 (26), Mahmudullah 18 (25)
Tamim Iqbal showed some power but was not able to carry on. Mahmudullah and Sarkar now have to build a solid stand and revive the innings after two early setbacks. Right after the 10th over, Dhoni introduced Raina and Ashwin from both ends but were not effective.
Bangladesh 44/2 after 10 overs
Soumya Sarkar 6 (13), Mahmudullah 4 (8)
Bangladesh have lost both their openers cheaply. That's certainly not the start they wanted. Tamim Iqbal was looking good with some classy drives but an excellent delivery from Umesh forced him to play outside off and hangs it on to the keeper. Imrul Kayes followed him back on the very next delivery amidst a huge confusion among the batsmen for a single.
Mahmudullah comes in at no. 4
Bangladesh 33/2
Imrul Kayes run out (Jadeja/Yadav)  5 (14)
OUT! That's a run out! Huge mix-up in the middle. This was pitched up and held its line outside off, Sarkar dabbed it to the right of point, he took a step or two down the track, Kayes responded and was almost half-way down the track before being sent back. He had no chance to beat the throw, Jadeja realized it early and throws it back at the bowler. Yadav was running back towards the stumps, collects the ball and whips the bails off. Kayes was well short, despite the dive.
Incomes Soumya Sarkar at no. 3
Bangladesh 33/1
Tamim Iqbal c Dhoni b Yadab 25 (25)
OUT! edged and gone! It's the big man Tamim Iqbal. Length delivery outside off and a edge to Dhoni who takes a very good low catch. Tamim was not convinced and asked umpire to review but it's fine.
Bangladesh 23/0 after 5 overs
Tamim Iqbal 17 (20), Imrul Kayes 3 (10)
A pretty good start for the batsmen here. Tamim Iqbal carted Mohmmed Shami for three boundaries in an over showing some exquisite show of drives. Umesh though bowled some beautiful deliveries and was successful in not making the batsmen play for any biggies.
Tamim is on strike. Umesh Yadav will open the attack.
Indians are in their huddle and Bangla openers Tamim Iqbal and Imrul Kayes are out in the middle.
The chase is about to begin in moments.
==========================
History says no team has ever chased the target of 300 and above at MCG in ODI cricket. This will not be an easy task for the Bangladesh batsmen as their batting mainly revolves around Mushfiqur Rahim, Mahmudullah and Shakib Al Hasan. However they have posted 290 before in the group games.
The story could have been different for them, as Rohit was caught in the deep off Rubel's bowling, but the on-field umpire, Aleem Dar, adjudged a full toss that was clearly below the waist as a no ball for height.
Rohit started on a great note by essaying fine drives, imperious pull shots and lofted strokes. However, as India lost a slew of wickets in the middle overs, he looked to play the anchor role before opening up his shoulders in the slog overs.
Bangladesh came across as a highly-motivated side and put India under immense pressure by picking up wickets at regular intervals, but it was Rohit, who steered them to safe waters.
Rohit becomes the second Indian after Sourav Ganguly to score a WC hundred in a knockout game. Ganguly got his hundred against Kenya in the 2003 WC semi-final. The likes of Sachin, Azhar, Dravid, Sehwag and Co. haven't got a hundred in a knockout game.
India 302/6 after 50 overs
Ravindra Jadeja 23 (10), Ravichandran Ashwin 3 (3)
Late blows by Raina and Rohit and a small cameo by Ravindra Jadeja helped India to get past the total of 300. That's a good total considering how well the Bangladeshi bowlers pulled them back after their rather spirited start in the early overs. Rohit Sharma played an imperious 137 to guide India to a suitable position, with Suresh Raina providing the adequate foil with his 57-ball 65. The late-hitting of Ravindra Jadeja ensured India could just get over the line and post a 300-plus total in the end.
Ravichandran Ashwin is the next man in
MS Dhoni c Nasir Hossain b Taskin Ahmed 6 (11)
OUT! Short and cramping Dhoni for room, he swivelled for a big pull, the ball went off the thick outside half, more of a slice and point running back takes it well.
Ravindra Jadeja is in at no. 7
India 273/5
Rohit Sharma b Taskin Ahmed 137 (126)
OUT! Clean bowled! A straight delivery right in the blockhole and a perfect yorker straight to middle stump.
India  245/4 after 45 overs
Rohit Sharma 112 (116), MS Dhoni 1 (4)
Suresh Raina thrown his wicket away just at the wrong time when he was going good with Rohit Sharma who is up with his maiden world cup hundred. He went for a pull and gets the thick top edge to the keeper which ended the solid 122 runs stand. Dhoni needs to fire from here if India wants to reach somewhere near 280 or 290.
MS Dhoni is in at no. 6
India 237/4
Suresh Raina c Mushfiqur Rahim b Mortaza 65 (57)
OUT! Wicket for Mortaza and it's Raina finally! This time it's not a ball. Top-edged straight up in the air and a good catch by Rahim, length ball on the stumps, Raina looked for the big slog and got a heavy edge.
India 205/3 after 40 overs
Rohit Sharma 91 (102), Suresh Raina 48 (44)
Fifty runs in the batting powerplay without a wicket. However there could have been one if Umpire Ian Gould had not given that no-ball. That was a shocking decision as it was well below the waist. Gould has got that wrong. Roar from the Indians in the crowd. They saw the hand stretched from Gould and went ballistic. Rubel is a disappointed man while Raina takes a deep breath and makes the fielders pay with a boundary.
It was a delay of about five minutes and the rain is stopped. The covers are off and players are back on the field to resume. The Bangladeshis are stretching and doing a bit of warming up as Indian batsmen walks in.
It has started raining. Off 3.1 overs bowled so far in the batting powerplay and scored 31 runs. Bangladesh bowled really well but it seems they are losing the grip as Rohit and Raina are well settled.
TIME FOR BATTING POWERPLAY
India 155/3 after 35 overs
Rohit Sharma 77 (90), Suresh Raina 13 (25)
Under pressure India now rely on Raina and Rohit with Dhoni yet to arrive. Kohli, Rahane, Raina combined consumed 67 balls and scored only 32 runs. It will be interesting to watch how the duo will bat in the upcoming batting powerplay.
DRINKS BREAK
India 132/3 after 31 overs
Rohit Sharma 60 (80), Suresh Raina 8 (11)
Wicket of Rahane has put India on the backfoot and the tigers are roaring here at MCG. Rohit has done well to hang in there with a well deserved half century. He hasn't been in the greatest of nicks in the tournament, but in a knockout game, with his team under pressure, has got a start. The regular wickets have really dented India. With Dhoni yet to arrive and Raina at the crease, it is imperative for Rohit to stay till the end and anchor India to a defendable total.
Suresh Raina comes in at no. 5
India 115/3
Ajinkya Rahane c Shakib b Taskin 19 (37)
OUT! Rahane is gone! He has thrown it away. Wanted to go over mid-off, tried to play on-the-up and the bat face turned on impact, the ball lobs to the left of mid-off, where Shakib runs and then takes it, before tumbling over.
India 99/2 after 25 overs
Rohit Sharma 48 (67), Ajinkya Rahane 11 (25)
The run rate has come down to 4 rpo which was well above 5.5. At the half-way stage this is not the expected total by the Indian batting line up. The projected score from here is just 200 and India will really have to play strong cricket to reach 300. Boundaries are dried up and credit goes to Bangladesh bowlers to keep India under pressure.
India 84/2 after 20 overs
Rohit Sharma 42 (53), Ajinkya Rahane 3 (9)
Good captaincy by Mortaza, keeping a slip in place and backing his bowler. The Bangladeshis in the crowd went wild when Kohli got out. Rubel for he tempted Kohli with the outswinger. His technique isn't tight to the outswinger as one saw on the England tour where James Anderson relentlessly exploited that flaw in his game. This was the second major breakthrough after Dhawan was stumped by Mushfiqur.
Ajinkya Rahane comes in at no. 4
India 79/2
Virat Kohli  c Mushfiqur Rahim b Rubel 3 (8)
OUT! Edged and gone! Rubel Hossain strikes the big man. Short and wide outside off....Kohli played to play away from his body through the covers. He gets a thick outside edge to the keeper.
Virat Kohli is in at no. 3
India 75/1
Shikhar Dhawan st Mushfiqur Rahim b Shakib 30 (50)
OUT! Dhawan is stumped!He comes down the track to try and drive Shakib through the covers, but the flight beats him as he went with the down swing. Mushfiqur was quick to whip off the bails as the replay shows Dhawan's foot was just short of the crease.
India 70/0 after 15 overs
Rohit Sharma 38 (47), Shikhar Dhawan 27 (43)
Bowlers have somehow put some control on the flow of runs but the momentum remains with India. There was some pressure but Rohit scored the first six of the innings down the ground off Nasir Hossain. Scoring at the rate of 5rpo after 15 overs without a wicket, 300+ total is well in reach from here.
India 51/0 after 10 overs
Rohit Sharma 24 (31), Shikhar Dhawan 22 (29)
A half century opening stand for Dhawan and Rohit once again in the tournament. Minimum of one boundary is coming in every over and so far in the first powerplay of 10 overs Bangladesh bowlers were not much effective as they were against England. The duo look well settled and would look to score far more.
India 26/0 after 5 overs
Rohit Sharma 16 (20), Shikhar Dhawan 5 (10)
Good start for India with the bat. The ball is swinging but Rohit started off with a brilliant square drive for a boundary. He looks aggressive having being scored three boundaries already. Shikhar Dhawan however survived a run out chance while he was slipped before going for a single.
Rohit takes the strike and skipper Mashrafe Mortaza has the new ball. Here we go....two slips in place
Indian openers Shikhar Dhawan and Rohit Sharma are out in the middle. The Bangladeshis are in a team huddle and they break out of it with a spring in their step.
The national anthems of both teams are being played.
India (Playing XI): Shikhar Dhawan, Rohit Sharma, Virat Kohli, Ajinkya Rahane, Suresh Raina, MS Dhoni(w/c), Ravindra Jadeja, Ravichandran Ashwin, Mohammed Shami, Umesh Yadav, Mohit Sharma
Bangladesh (Playing XI): Tamim Iqbal, Imrul Kayes, Soumya Sarkar, Mahmudullah, Shakib Al Hasan, Mushfiqur Rahim(w), Sabbir Rahman, Nasir Hossain, Mashrafe Mortaza(c), Rubel Hossain, Taskin Ahmed
Dhoni: 'We will bat first. Big match, put the runs on the board. Everyone is fit. Well a lot. What this unit has done is bowl in the right areas. We have to do this in the Test arena as well. There is scope of improvement. Not reall, every team that has reached the quarterfinal is a good side.'
Mashrafe Mortaza: 'Definitely we are proud and hopefully we will give our best today. We would have batted first as well. Only one change, I come in place of Taijul. I am fit and will give everything. Rubel and Taskin are bowling over 142kph and hopefully they to that today as well.'
Toss time: India won the toss and have elected to bat first
This pitch was used recently for the Sri Lanka and Bangladesh game. Even covering of grass. It's a perfect bat first pitch.
This is Bangladesh's 300th ODI and also the first time they will be featuring in a knock-out match in the World Cup. They played India in their 100th (2004) and 150th ODI (2007), winning both games. Apart from this they also won their 200th and 250th one day game against West Indies and Zimbabwe as well.
Despite a sunny morning, there was a high or 70 percent chance of showers in the afternoon, according to the Australian government's Bureau of Meteorology.
Though there is a high probability of rain or thunderstorm interrupting the quarterfinal clash.
The in-form Mahmudullah (344 runs) might pose some problems for India's bowlers after his back-to-back centuries against England at Adelaide and against New Zealand in Hamilton in their last league game.
Bangladesh's real problem could be their bowling.  Mashrafe and Rubel can be skiddy customers but it is not proved that they can keep up their consistency match after match. Also none among the Bangladeshi bowlers have had number of victims in double digits.
Player by player, India are quite a few notches above their opposition. Bangladesh will be hoping dearly that their formidable opposition have a bad day in office which they can cash in.
Call it irony but Bangladesh unwittingly made a contribution towards ICC trying out this current format in World Cup after they shocked India in the 2007 edition in a round robin match at Port of Spain.
The initial momentum that they seized after crushing Pakistan in the first game stayed with them throughout the league phase.
India with their power-packed performance throughout the past one month have emerged as worthy contenders for retaining the Cup alongside former champions Australia and co-hosts New Zealand.