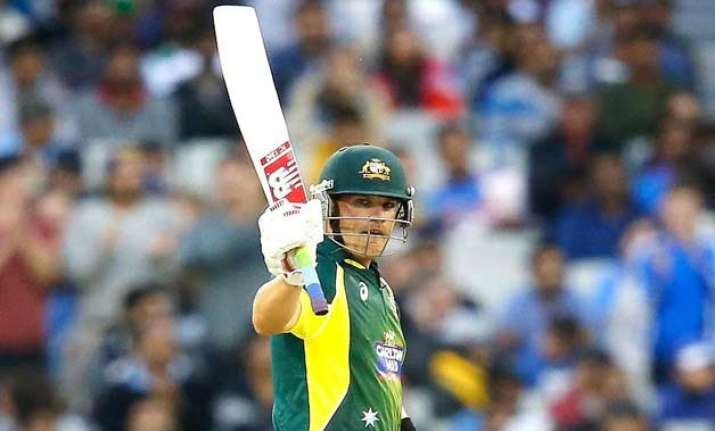 Melbourne: The two ODI giants Australia and India are up once again in a battle of no. 1 spot in ODI rankings when the two face each other in the second ODI of the tri-series here Sunday.
Indian bowlers didn't give up till the end. They got rid of the both set batsmen and got the required run-rate to run-a-ball. In the end, it required the calmness of Haddin and Faulkner to finish the game off for Australia.
Australia were given a strong start through Warner, who started off in the same fashion as he had done against England. However, Umesh sent him back at a crucial time. Watson came out and was looking good, before he threw his wicket away. Smith and Finch then laid the foundation for the hosts with a solid 101-run stand. Both batsmen fell at the wrong time, especially Finch who missed out on his 6th ODI ton by 4 runs.
Australia won the match by 4 wickets
Australia 269/6 after 49 overs
Haddin 13 (11), Faulkner 9 (9)
Faulkner hits the winning runs for Australia and the hosts completed their second victory in the tri-series. The bowlers kept it tight for Australia in few overs but late strikes by Faulkner and Haddin took Australia home.
James Faulkner is in at no. 8
Australia 248/6
Glenn Maxwell c & b Bhuvneshwar 20 (23)
OUT! Bhuvi gets his man. Maxwell goes back to pavilion. He chips it back to the bowler.
Shami has pulled up after bowling the last delivery. The physio is out having a look at him. He was catching his left hamstring. He is going off the field. Hopefully, it is nothing serious as the World Cup is not far away. Bhuvi to complete the over...
Australia 242/5 after 45 overs (26 runs to win)
Maxwell 15 (16), Haddin 2 (3)
After two quick wickets of Finch and Bailey, Maxwell released the pressure from Australia with couple of big shots and inched more closer to their target.
Brad Haddin is the next man in
Australia 230/5
George Bailey st Dhoni b Ashwin 5 (11)
OUT! Down the leg side and Dhoni whips off the bails in no time. Bailey tickles it to Dhoni, who does not appeal for the catch, but waits for the batsman to step out of the crease, he then whips the bails off in a flash.
Skipper George Bailey walks in next
Australia 219/4
Aaron Finch c Dhoni b Yadav 96 (127)
OUT! Another wicket for India. Short pitched outside off, Finch gets an outside edge to Dhoni and missed-out his century.
Australia 218/3 after 40 overs (50 runs to win)
Finch 96 (126), Maxwell 1 (1)
Australia scored 22/1 in the batting powerplay. Steven Smith reached the career milestone of 1000 ODI runs with a single towards third man but was dismissed at 47 to Umesh Yadav, falling just four short of his half century.
Glenn Maxwell is in at no. 5
Australia 216/3
Steven Smith c Ashwin b Shami 47 (52)
OUT! Finally a breakthrough. Smith played an unusual shot off a short delivery and hangs is straight to Ashwin at mid-on.
BATTING POWERPLAY ENFORCED!
Australia 196/2 after 35 overs (72 runs to win)
Finch 86 (111), Smith 37 (38)
Some good quality cricket by Aaron Finch and Steven Smith, scoring a boundary every over. They have added 80 runs together till now and looking to score far more than that. Finch is inching towards his century as well. Umesh and Shami has been consistent from tests in leaking runs while Raina introduced as third option as a spinner conceded 24 runs in two overs.
Australia 155/2 after 30 overs
Finch 60 (91), Smith 24 (28)
Punishing Indian bowlers for their poor line-lenght Finch and Smith are hitting boundaries in every over and ticking close to the target easily. Cruising along Australia are more than half-way through making it difficult for India to defend their total of 267.
Australia  124/2 after 25 overs
Finch 53 (82), Smith 2 (7)
To keep the momentum going Virat Kohli is asking the crowd to cheer for India on the field.
Indians were certainly feeling the pressure on the field but the wicket of Watson by Axar Patel have given a sigh of relief to them. The break-through came at a crucial stage and the partnership ended as Watson-Finch duo was going strong. Meanwhile, Finch gets his 6th ODI fifty.
Steven Smith is in at no. 4
Australia 115/2
Watson b A Patel 41(39)
BOWLED !! Watson clean bowled by Axar Patel. A crucial breakthrough breaking the partnership.
Australia  102/1 after 20 overs
Finch 35 (65), Watson 39 (34)
Australia are motoring along nicely even though they have lost Warner. Apart from Bhuvi, the rest of the Indian bowlers have lacked discipline. 100 runs are up for Australia.
Australia  78/1 after 15 overs
Finch 31 (51), Watson 19 (17)
Wicket of Warner and a maiden over by Umesh Yadav has slowed the scoring rate of Australia a bit but they are much of India's score at this moment with boundaries coming every over. Axar Patel was introduced in 13th over but was welcomed with a squarish boundary by Watson. Later he was denied a lbw appeal against Finch by the umpire.
Australia 56/1 after 10 overs
Finch 24 (34), Watson 4 (4)
Finally, Umesh Yadav strikes for India by sending back the well settled Warner back to pavillion.
It seems nothing going in India's favour as of now. A display of poor bowling by Indian bowlers has led to Australia's thunderous start with a 50 run partnership by the openers Finch and Warner. Indian fielders are under complete pressure as openers have taken the charge.
Shane Watson is in at no. 3
Australia 51/1
David Warner c Raina b Yadav 24 (22)
OUT! The big man is gone! Yadav gets the first breakthrough for India. Warner has thrown his wicket away. He was looking to pull it over mid-wicket, gets a thick top-edge that swirls towards cover and Raina takes an easy catch.
Australia 32/0 after 5 overs
Finch 14 (19), Warner 14 (11)
Indian pacers are off to a bad start today. It seems that Australia started their innings where they left against England in the series opener. Finch and Warner have taken the charge over the bowlers right from the start.
Bhuvneshwar Kumar to start off for India with Finch on strike.
Aaron Finch and David Warner are on the field to take the charge against India.
Now its Australia's turn on the field.. But a short break there because of the slow over rate, Australia took an extra 26 minutes to bowl their 50 overs.
India will be disappointed with the final score. At the start of the batting powerplay, they were motoring along and looked good for even 300. Rohit Sharma and Suresh Raina were coasting along having gone past fifties. Raina fell immediately after his fifty, Dhoni took his time to settle but the final flourish never came.
Rohit fought hard, made his 6th ODI ton, but with partners deserting him at regular intervals, he just about helped India make a slightly below par score. India would have taken 267 after the early flutter, but they will be disappointed, especially after the Raina-Rohit stand. For Australia, Mitchell Starc was outstanding, both with the new ball claiming his career best of 6/43 as well as during the death overs, Faulkner, Cummins and Sandhu frustrated the Indians with their clever variations.
India were 185-3 after 34.5 overs but lost 5 wickets in the span of 77 runs later. Brilliant comeback by the Australians.
Australia need 268 runs to win in 50 overs at a run rate of 5.36 rpo.
India 267/8 after 50 overs
Ashwin 14 (20), Shami 2 (3)
Few quick wickets in the end including Dhoni, Rohit, Axar, and Bhuvneshwar pegged India's scoring rate back. A short batting collapse in the lower order restricted India from posting a big total. India finished at 267/8 in 50 overs and the captain might be feeling 15 or 20 more runs could be even better. Definitely a below par score for India at MCG.
Mohammad Shami is in at no. 10
India 262/8
Bhuvneshwar Kumar b Starc 0 (1)
OUT! Golden duck for Bhuvi and six for Mitchell Starc. This is his career best figures as well. Change of angle from Starc, comes from round the wicket and fires a full toss on the stumps, Bhuvneshwar was backing away on the drive, is beaten by pace and turns back to see his shattered stumps.
Bhuvneshwar Kumar is in at no. 9
India 262/7
Rohit Sharma c Maxwell b Starc 138 (139)
OUT! Rohit Sharma is gone and Starc gets his 5th. This was a full toss that angled across the batsman, Rohit was looking to go over mid-wicket, doesn't get hold of the shot and finds Maxwell to perfection. A big ovation from the crowd
Axar Patel's dismissal: The replay and the hawk-eye shows that the ball was slipping down the leg side but it was a close call for the umpire.
India 237/6 after 45 overs
Rohit 127 (131), Ashwin 0 (2)
Rohit Sharma is on 127. This is the highest score on this ground in a AUS v IND match. The previous best was 115 by Ricky Ponting. The partnership between him and Dhoni crossed the half century mark but Dhoni was bowled by Starc off an inside edge on a slower delivery. Axar Patel followed him back just two deliveries later. India are losing it out from here and Rohit is falling short of partners at other end.
Ravichandran Ashwin is in at no. 8
India 237/6
Axar Patel lbw b Starc 0 (2)
OUT! Four wickets for Starc. Full and straight and Axar was plumped in front. Umpire raises his finger.
Axar Patel is in at no. 7
India 237/5
MS Dhoni b Starc 19 (31)
OUT! Inside edge and gone. Starc gets his third. This is the massive wicket blow for India at this stage of the game.
India 206/4 after 40 overs
Rohit 107 (114), Dhoni 12 (22)
19/1 was India's score in the batting powerplay. Rohit Sharma completes his 6th ODI century and 3rd against Australia with a single towards third man and gets a big hug from the skipper Dhoni. He is now the highest scorer among Indians at MCG. This the last recognized batting pair for India out there and they now have to share a good partnership if they have to reach the score of 300.
India 185/4 after 35 overs
Rohit 98 (106), Dhoni 0 (0)
A productive phase of play for the Indians. Rohit and Raina were settled down well and pressed on the accelerator. India look good for a big score as they have taken the batting powerplay after 34th over. Suresh Raina gets his 33rd ODI fifty for India but was soon dimissed by Starc.
MS Dhoni walks in to bat now
Suresh Raina c Maxwell b Starc 51 (63)
OUT! Wicket for Starc. Suresh Raina is disappointed and so is India. He was looking to clear mid-on, but didn't hit the middle of the bat, ends up dragging it towards Maxwell at mid-on for a simple catch.
India 153/3 after 30 overs
Rohit 77 (90), Raina 43 (48)
32 runs in the last five overs with a boundary scored in every over. Debutant Sandhu has been really impressive so far with one wicket of Rahane.
India 121/3 after 25 overs
Rohit 62 (77), Raina 26 (31)
Rohit Sharma gets to his 24th ODI fifty in style with a biggie over mid-on and also brings up the 50-run parternship with Raina. Words exchanged between Rohit Sharma and David Warner and later with Shane Watson. The umpires had to intervene to seprate them.
India 89/3 after 20 overs
Rohit 43 (60), Raina 14 (18)
Despite early strikes Rohit and Raina are looking well set now with a decent partnership. Both these batsmen are capable of pumping up the scoring rate and that is what they need to do now. They look confident enough to face the short balls.
DRINKS BREAK
India 62/3 after 15 overs
Rohit 31 (46), Raina 1 (2)
Australian bowlers are really keeping it tight for the Indian batsmen out there. After Dhawan and Rahane, the superman of India Virat Kohli was removed to wreck the top order. This is the second last batting pair of India with Dhoni yet to come.
Suresh Raina is the next batsman in
India 59/3
Virat Kohli c Bailey b Faulkner 9 (16)
OUT! Huge blow for India as the man in form Virat Kohli is out now. Extra bounce has claimed another victim. It was a shortish one from Faulkner, Kohli gets back and pulls with all his might but he ends up top-edging it and the skipper takes a simple catch. India are in deep trouble now.
James Faulkner comes into the attack now. Just a gully in place
India 45/2 after 10 overs
Rohit 24 (29), Kohli 1 (5)
Gurinder Sandhu strikes in his second over to remove Ajinkya Rahane as his first ODI wicket on debut and the Indian top order downfall started yet again. He is bowling with good pace of above 135 kmph deliveries. He is tall and also having a good carry to the wicketkeeper. But Rohit Sharma is looking very well at the crease after scoring a cracking cover drive for four off Cummins.
Virat Kohli is in at no. 4
India 33/2
Ajinkya Rahane c Haddin b Sandhu 12 (22)
OUT! First ODI wicket for Sandhu on debut. Extra bounce outside off and Rahane gets the outside edge to the keeper.
So the Indian origin Australian right arm fast medium bowler Gurinder Sandhu is brought into the attack now
India 29/1 after 5 overs
Rohit 12 (9), Rahane 12 (17)
Indian openers failed yet again to provide a good start. Starc got the crucial wicket of  Shikhar Dhawan early after surviving a huge lbw appeal and put the visitors on backfoot. The ball is swinging very much but Rahane and Rohit despite missing some close edges, scored couple of boundaries and a six.
Ajinkya Rahane is in at no. 3
India 3/1
Shikhar Dhawan c Finch b Starc 2 (4)
OUT! Outside edge and gone! Starc once again strikes in the first over. Disappointing start for India as Dhawan once again looks to drive the outswing delivery but gets an edge to Finch at slips.
Mitchell Starc to open the bowling and Rohit takes the strike
Rohit Sharma with Shikhar Dhawan is out in the middle.
Live action follows in just a moment.
It will be a test for the Indian batsmen how they face the swinging deliveries from Starc and Cummins.
Australia (Playing XI): Aaron Finch, David Warner, Shane Watson, Steven Smith, George Bailey(c), Glenn Maxwell, Brad Haddin(w), James Faulkner, Pat Cummins, Mitchell Starc, Gurinder Sandhu
India (Playing XI): Shikhar Dhawan, Rohit Sharma, Virat Kohli, Ajinkya Rahane, Suresh Raina, MS Dhoni(w/c), Akshar Patel, Ravichandran Ashwin, Bhuvneshwar Kumar, Mohammed Shami, Umesh Yadav
Akshar Patel has been picked for India. And the quicks are Bhuvi, Umesh and Shami
India have won the toss and have opted to bat
Pitch Report: It looks like an excellent pitch. There is no grass on the wicket. Whatever grass was there it has been rolled over. It is a good batting wicket. The team will want to bat first as the ball will swing under lights.
Gurinder Sandhu is set to make his ODI debut replacing Xavier Doherty in the squad. He just received his cap from Rodney Marsh, becoming player No.206 to play for Australia. He is the first Indian origin players to play for Australia.
The time for experimentation is running out. It is time to finalise team compositions and secure a winning habit. With the 2015 WC just 28 days away, it is crunch time as teams aim to gather momentum.
For India, who have lost just two games in the last 12 matches and have won four successive ODI series, will aim to extend their winning habit ahead of the World Cup.
Tri-series 2015: Five Indian players who will be under scrutiny
On the other hand, the Indian team management has failed to specify whether it will be Ajinkya Rahane or Rohit Sharma pairing up with Shikhar Dhawan at the top of the order, or indeed whether a third possibly-surprising combination might be thrown up.
The choice of openers will have an effect on the rest of the batting order as well. If Rahane opens with Dhawan, where will Rohit fit in? Indeed, if Rohit opens the innings, will Rahane return to number four, a position he has not been comfortable with.
Australia will miss their spearhead Mitchell Johnson once again on Sunday. But the pace, late swing Mitchell Starc can generate with the new ball proved all too much for England at the SCG in first ODI, more or less deciding the contest in the face of its first three deliveries.
Bailey and Dhoni opposed each other in the last One-Day series in India when the visitors were crushed by 3-2 in a 7-match series after two games were washed out due to rain.
The last two World Cup winners. The top two ranked ODI teams. Two of cricket's three financial giants. There is much that is momentous about any 50-over meeting between Australia and India, especially so close to the start of another World Cup.
But there is also plenty that is uncertain. India are being led by a captain who has just retired from Test matches and is hanging on for another tilt at the limited-overs crown he lifted in 2011. Australia's captain has been ruled out of this tournament entirely, and is no certainty to take any part in the Cup itself, leaving leadership in the hands of George Bailey.
With an aim to defend their World title, India would like to start their World Cup preparations on a winning note when they face in their tri-series opener against Australia. The battle will also be for the no. 1 spot in ODI rankings.