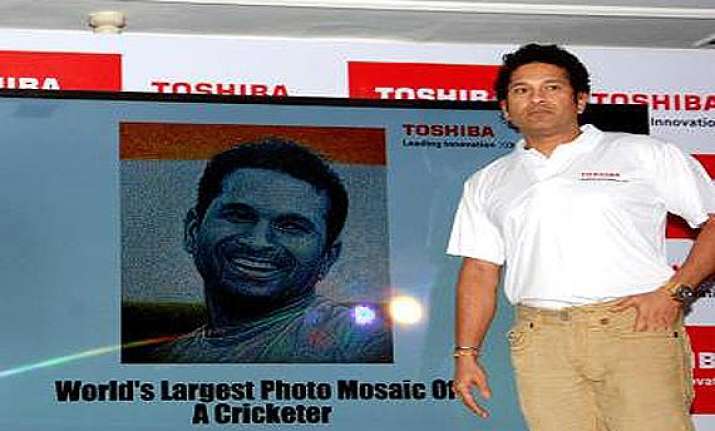 Mumbai:
Japanese electronics major Toshiba today paid tribute to Sachin Tendulkar by creating the world'slargest digital photo mosaic of the retired player, consideredto be the largest of any cricketer.    
Tenedulkar himself unveiled the mosaic at a function.     
The company had started the campaign on social mediaearlier this year and the mosaic includes the photographs ofover 17,000 fans.     
"From January they have had this contest. We are Sachin and here I see we love Sachin, which makes it even better. It is really touching.
It is moving to see such a terrificresponse and over 17,000 photographs are put together to make my face. And in the background you see tri-colour and it can'tbe better than that," Tendulkar said at the unveiling function.
"I would like to take this opportunity to thank Toshiba for this campaign and above all, thank all the well wishers who have stood behind me for 24 years. Whatever I have been able to achieve, the way I have been able to play has been because of their good wishes and their support.     
"It (support) has given me strength to achieve various things in life, whatever I have been able to achieve on field is thanks to all my well wishers. This mosaic picture of mine, makes it even more special because it is filled with love," the 40-year-old added.     
The photo mosaic is adapted from a painting by Vivek Sharma and the painting -- titled eye of the tiger -- draws a parallel between the tiger and the legendary cricketer for his strength, bravery and precision.
It is also a metaphorical reference depicting Tendulkar's fiery attitude when it comes to cricket, according to Toshiba.     
"Just two three days ago I spent lot of time with lions around in Gir forest and now I will be spending more time with tiger eyes here, so it's a nice combination to have.
I really like the entire mosaic finish photograph of mine, as well as the eyes," Tendulkar said.     
"I am really looking forward to have a closer look at the mosaic work, which would be really fascinating.