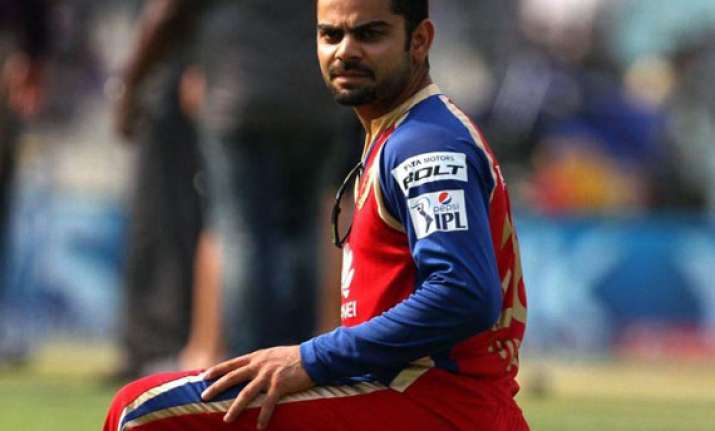 Kolkata: Comprehensively outplayed by the Kolkata Knight Riders, Royal Challengers Bangalore captain Virat Kohli Thursday regretted his side's lack of consistency and conceding the momentum after the first four overs of the rivals' innings in their Indian Premier League outing.
"We have not been consistent in the crucial moments, I have said this before as well. Have not maintained our composure too much, in those crunch situations," Kohli said after his side suffered a 30-run loss at the Eden Gardens.
Replying to the Knight Riders' 195/4, the Royal Challengers finished at 165/5.
The talismanic batsman said that while individuals need to learn from such situations and come back stronger, RCB failed to do that.
He said RCB bowlers had the initiative when KKR were 28/2 after the first four overs. "But we just could not capitalise on it. We gave away the momentum again."
Kohli said the KKR batsmen's heroics in the later staged also paid them rich dividends, while his willowers failed in that area.
"When we were batting, the difference after 12 overs was only 10 runs. But after that, they took off, they scored about 90 in the last eight. That is one area where we have been lacking in the past few games. That has cost us badly in this tournament."
He also admitted that the KKR bowlers performed better.
"In T20, the side that bowls better, ends up being on the right side of the result. Tonight was another case where KKR bowled better than us and you saw the result in the end."
Praising KKR's in-form opener Robin Uthappa, who came up with a 51-ball 83 to grab the man of the match award, Kohli said his bowlers gave him balls to hit.
"It was more like he was given balls in the areas in which he wanted to hit rather than making him think about what he should do and the bowler being smarter than the batsman. All credit to him, he has been playing well and hitting the ball well."