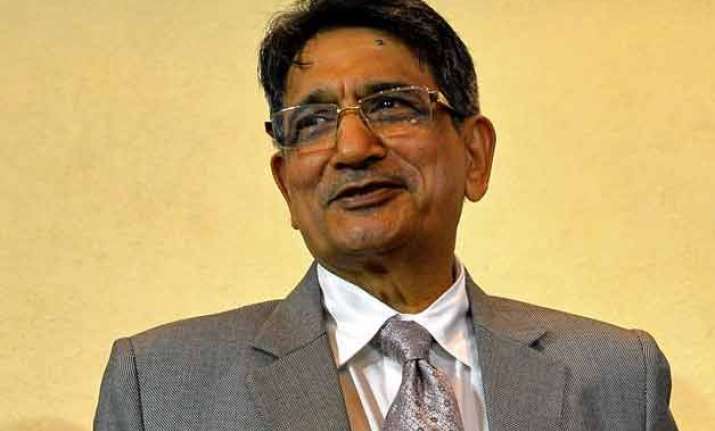 New Delhi: The Supreme Court-appointed Lodha Panel has recommended some sweeping changes in BCCI that may have long term impact on functioning of Indian Cricket.
The  panel, which had suggested suspension of Chennai SuperKings and Rajasthan Royals for two years from participating in IPL, today submitted its report to the Supreme Court.
The report, which deals with various aspects relating to the functioning of Board of Control for Cricket in India (BCCI),  will be considered by the bench headed by Chief Justice T S Thakur at a later stage.
The panel's report was submitted by advocate Gopal Shankar Narayan to the Supreme Court registry.
Here are the key recommendations by the Lodha committee
* Panel gives clean chit to former IPL COO Sunder Raman.
* Not enough evidence against former IPL COO Sunder Raman.
* Panel suggests cricketing matters to be decided by cricketers while non-cricket matters to be handled by the CEO and assisted by the team of six professional managers and two committees.
* Panel suggests to legalise betting with inbuilt mechanism. Lodha panel had suspended Chennai Super Kings and Rajasthan Royals for two years for betting offences
* Lodha panel wants BCCI to come under RTI Act. Currently, BCCI comes under Societies Act and is not answerable to the government. BCCI also does not take grants from sports ministry
*  We had to ensure autonomy of BCCI was not affected. Ailments needed cure, but needed to ensure good bacteria in the body wasn't lost," said Justice Lodha
* No BCCI office-bearer can hold office for more than 3 terms with the rider that there will be a cooling off after each term
* No BCCI office-bearer can have more than two consecutive terms
* No BCCI office-bearer can be Minister or government servant
* Ethics Officer will decide on conflict of interest
* A steering committee headed by former Home Secretary G K Pillai with Mohinder Amarnath, Diana Eduljee and Anil Kumble as members
* Constitution and establishment of a players association
* Limited autonomy for IPL Governing Council
* The Lodha panel recommends separate governing bodies for the IPL and BCCI
* Lodha Committee recommends relegation of Railways,Services and Universities as Associate members. They also lose voting rights.
* One Association of each state will be full member and have the right to vote, Lodha panel recommends
Earlier, the panel had suspended star-studded Dhoni-led Chennai Super Kings (CSK), the most successful team of IPL, and Rajasthan Royals for two years from the League in a clean-up of cricket following the 2013 betting scam involving their top officials Gurunath Meiyappan and Raj Kundra.
Son-in-law of the then BCCI chief N Srinivasan, Meiyappan, a former Team Principal of India Cements Ltd (ICL)-owned franchise CSK and Kundra, co-owner of Jaipur IPL that runs Rajasthan Royals (RR), were suspended for life from any matches conducted by BCCI.
While the three-member committee comprising Justice (Retd) RM Lodha, Justice (Retd) Ashok Bhan and Justice (Retd) RV Raveendran has submitted the report to the Supreme Court, the BCCI is keenly watching the proceedings as to whether the Apex Court makes the recommendations binding or not.
There are reports in some quarters that the panel may recommend that politicians should not be part of the Board which is run as a society registered under the Tamil Nadu Societies Registration Act.
The executive functionaries are all honorary office-bearers with most of the top state cricket associations being run by either a politician, or a bureaucrat or a heavyweight industrialist.
Barring former India captain Sourav Ganguly, who is the Cricket Association of Bengal (CAB) president and Dilip Vengsarkar, vice-president of Mumbai Cricket Association (MCA), none of the top cricketers are running the show in state units.
The second contentious issue that probably will be dealt with in the report is the 'Conflict of Interest'.
The committee may also suggest making IPL a separate private limited company under section-8 which has to reinvest all its profits.
Among the major points on governance structure, it needs to be seen if the all-powerful working committee may be done away with suggestions about having a paid Board of Directors.
The most contentious issue would be the committee's recommendations on politicians, who occupy top positions in the Board.
Already resentful of any such move, a lot of members in the BCCI have already started saying it is tough to ensure that only ex-players can prove to be good administrators.
They feel French football legend and now tainted former UEFA boss Michel Platini is an example of how things may go haywire even if a top player comes in administration.     
If there are sweeping changes suggested which are legally binding, then there could be an administrative shake up just before the marquee ICC World T20.
"Is there a guarantee that former players would do a better job than politicians turned sports administrators? If that is so why did Michel Platini get banned for eight years on charges of financial impropriety," a senior politician and prominent BCCI official questioned.
"One of the finest and prudent presidents of BCCI was Late NKP Salve. Similarly late Jagmohan Dalmiya was a businessman and IS Bindra, a bureaucrat. Didn't they make BCCI a financially stable organisation," he added.