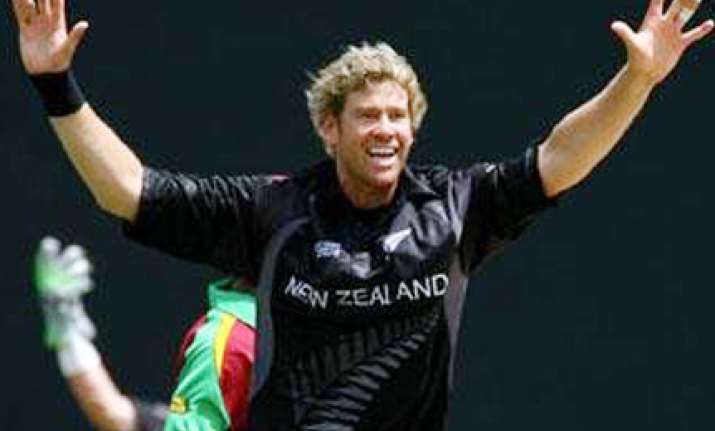 Injury-plagued New Zealand all-rounder Jacob Oram announced Tuesday he is retiring from Test cricket in a bid to prolong his career in the shorter forms of the game.
The 31-year-old, forced out of the recent Champions Trophy one-day tournament with a hamstring injury, said he would continue to be available for one-day internationals and Twenty20 cricket.
"The last few years have shown that my body cannot handle the strains and stresses that come with being an all-rounder, playing all three formats for up to 10 months a year," Oram said.
"For the sake of longevity I have had to make a decision that will decrease my workload, so I can concentrate all my efforts on the shorter forms of the game."
Oram, who made his Test debut in 2002, scored 1,780 runs in 33 matches at an average of 36.32, including five centuries. He took 60 wickets at 33.05, taking over from Chris Cairns as New Zealand's top all-rounder.
His international one-day batting average is a more modest 24.40, and he has taken 132 wickets at 30.99 in 132 matches.
Oram had put off a decision about his career despite a spate of injuries over the past year. "However, in light of my latest injury at the Champions Trophy it has become clear to me that now is the time to sacrifice something to try and stay in the game longer," he said.
The 2011 World Cup is in his sights and he said he would like to continue for a couple of seasons after that if his body holds out.
New Zealand Cricket chief executive Justin Vaughan said he understood Oram's decision.
"Jacob has made a tremendous contribution to our Test team over the past seven seasons, and his experience will be missed," Vaughan said.
"But we fully understand the difficulties he's faced with injuries and we hope this decision will help him prolong his playing career."