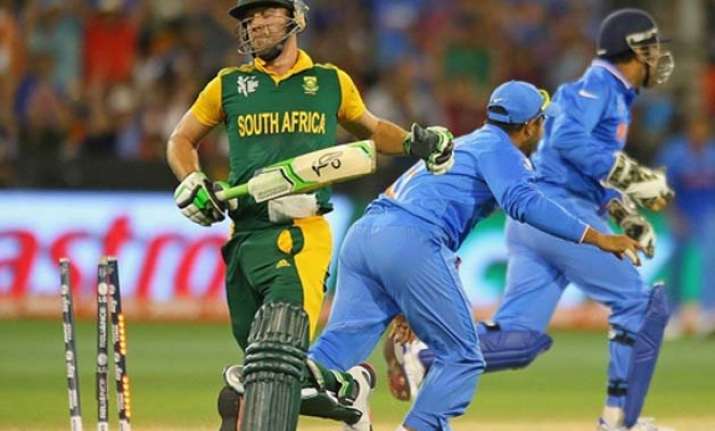 Kanpur: After an "unexpected" series win in the Twenty20s, South Africa's ODI captain AB de Villiers says it would be challenging to maintain the momentum against an Indian cricket team looking to bounce back in the five-match ODI series beginning here tomorrow.  
"Yes, it is vital," said de Villiers on the eve of the opening ODI while answering a query on the way forward on the team's long tour of South Africa.
"It is a great start in what promises to be a very challenging tour for us. In the T20 series, I don't think a lot of people expected us to play the way we did. There will be lots of travelling, lots of different grounds, lots of different wickets. It is going to be challenging but we have got very important momentum on our side and we are hoping to build on it tomorrow," said the destructive batsman.  
He was soon reminded about the fact that South Africa are yet to win a bilateral ODI series in India.  "We are hoping to win the series. We drew 2-2 way back in 2006. I was part of that series. We would love to win the series. We have shown the world that we can beat India in India. We have just got to play very good cricket. The T20 series is in the past. It is a whole new story now. India will try to bounce back and hopefully we will stop them."
Asked about the plan for tomorrow's game, he said: "The plan is to play a good cricket game. We have covered all our bases. There are no funny game plans. If we play well, we have a good chance of winning. It doesn't look like a spinning track. It looks like a good cricket wicket. Anyway we are well prepared to face a lot of spin herein India.
" De Villiers, arguably the best ODI batsman to be playing the game, defended himself well when asked about getting dismissed by Ravichandran Ashwin in both the T20s.
 "I can answer that very well. He is a very good bowler.  But I don't think he got me out in either of the games. I got myself out in both the games. When you face technical flaws against a bowler, then you have to worry about your game. But that was not the case. I was looking to dominate. Last game I got a bit lazy, played for spin when there was not a lot of it. There is nothing to worry about. Having said that, he is a world class bowler and needs to be respected," he said.  
The visitors' pace department will get a big boost with the return of Morne Morkel and Dale Steyn, who were rested for the T20s.
"It is nice to have both of them back. We have not seen them for a while. They bring good energy and experience to the team. Very excited to see them run in to bowl tomorrow. They look in really good form especially Morne who is going to play his 100th ODI tomorrow. We are happy for him. It is a great achievement."