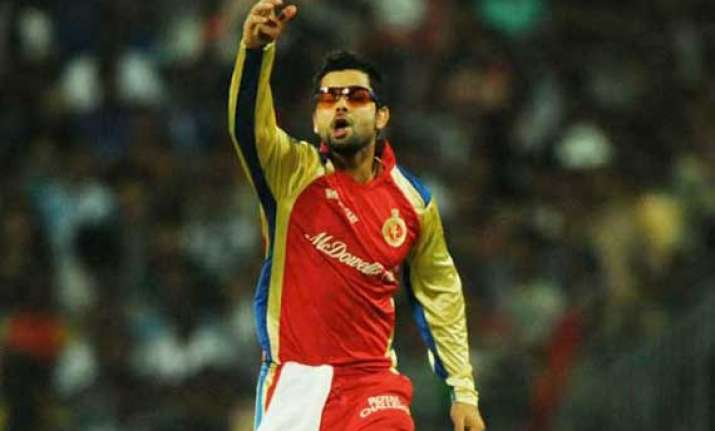 Bangalore: After losing from a position of strength in their previous encounter, the diffident Royal Challengers Bangalore will lock horns against bottom-of-the-table Delhi Daredevils in an IPL game here today.
Bangalore were defeated by some incredible power-hitting executed by Steven Smith (48 off 21) and James Faulkner (41 off 17) and they would like to bounce back by overwhelming the out-of-sorts Daredevils.     
The hapless Daredevils, on the flipside, were thrashed by Kolkata Knight Riders in their last encounter after Gautam Gambhir fashioned a strokeful 69.     
Led by a feisty
Virat Kohli
, Bangalore are struggling to keep their chances alive in the contest, having already suffered six defeats in nine games to be placed sixth.     
Daredevils, on the other hand, are placed at the bottom of the points table with two wins and seven reverses in the eight-team tournament.     
Having failed to exploit the home advantage to get back the momentum, Bangalore's famed batting lineup will hope to click against the dogged Rajasthan.     
Yuvraj, who made a brilliant 83 off 38 balls when the chips were down for Bangalore against Rajasthan batting first, would like to continue the form to keep team owner Vijay Mallya who had bought the Punjab lad for a whopping Rs 14 crore.     
Bangalore's dismal performance in this IPL is directly related to the massive failures of
Chris Gayle
and Virat Kohli.     
Gayle has not yet destroyed any opposition bowlers but would like to get a big one under his belt in the remaining five games. The 25-year-old Delhi lad would also be eager to unleash his talent, which has eluded him so far in the tournament.     
AB de Villiers, who is relatively the most consistent batsman in Bangalore with his heroics of 53 and 58 in a losing battle against Kings XI Punjab and Rajasthan, would look to continue this brutal form in the remaini