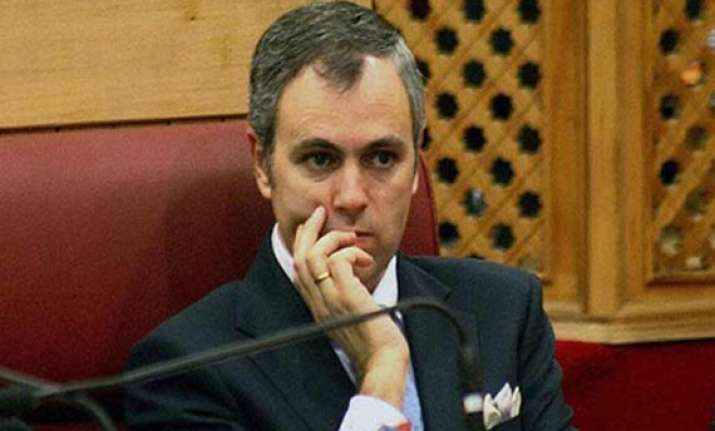 New Delhi, May 21 : In the wake of controversy over spot-fixing in IPL matches, Jammu and Kashmir Chief Minister Omar Abdullah on Monday  favoured life ban on players guilty of such unethical practice.
"It is a serious issue. The players (if found guilty) should not be suspended. They should be given strictest punishment like life ban so that it act as deterrent for others," Omar told reporters here.
The 43-year-old Chief Minister, who himself is a cricket enthusiast, said the whole spot fixing issue was a "huge disappointment" for all the sports lover.
Omar was also critical of restricting the whole incident as spot fixing.
"This hair splitting what authorities are doing on spot fixing and match fixing. In a 20-over game, if you give more than 12 runs a over you might have fixed the match as well. The margin is so small.
"Let us not hair split that it is a spot fixing and not match fixing. In a twenty over game, spot fixing is as good as match fixing," he said during an interaction at Foreign Correspondents' Club here.
Omar also called for corrective steps to check fixing like instances.
"I don't think it is going to be an easy task for authorities. Given the number of matches and number of teams. It is very easy to criticise players for attending parties but I feel it was a part of their contract to attend the parties ...The system was at fault which needs to be corrected and I hope those corrections are (being) made," the CM said without elaborating further.
Three IPL players--S Sreesanth, Ajit Chandila and Ankeet Chavan--and over dozen bookies have been arrested by Delhi Police for their alleged involvement in spot fixing in the ongoing T-20 cricket tournament.
The Chief Minister was also pleased after seeing Parvez Rasool, first cricketer from Jammu and Kashmir to bag an IPL contract with Pune Warriors India (PWI) for 2013 season, in the sporting extravaganza.
"I was very pleased to see a Kashmiri playing on an international stage. I think it was only unfortunate that he got only a game to play after his team was knocked out. And I would like to believe if he had played in the team before it was knocked out perhaps the fate of Pune has not been what it is and probably they would have been done better...
"But it was nice to see Parvez Rasool taking part in the tournament. I want more Kashmiris youngsters to participate in sports," Omar said.