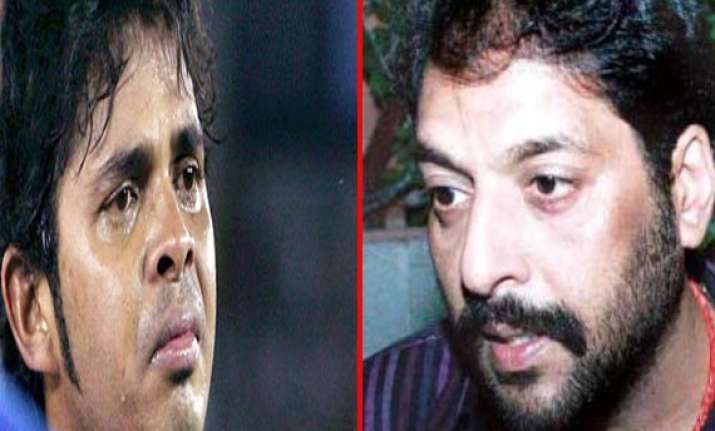 New Delhi, Jun 9: A prison makes the unlikeliest of  persons  to become friends.  Disgraced former Haryana minister Gopal Kanda, serving time  in connection with the Geetika Sharma suicide case, now acts as counsellor to another tainted bowler S. Sreesanth in ward 9 of Jail No.1 in Tihar.
Sreesanth, who had been defiant and showing V signs while going to Tihar jail, is now despondent, now that Delhi Police has slapped charges under MCOCA (Maharashtra Control of Organised Crime Act) against him.
On Thursday and Friday, Sreesanth spoke to his acquaintances on  speaker across a glass partition in the visiting room.
"Kanda has had a positive influence on Sree. When Sree was upset, Kanda told him that he had been lodged in Tihar for much longer and was unlikely to be released soon. He also advised Sree not to get frustrated and go about his daily routine without obsessing about when he would be released," H Hamsa (Shibu), a friend who called on Sreesanth last week, told a newspaper.
"When you are down and out and alone in a jail, you have to turn to someone for solace and Kanda being his cellmate has helped Sree stay sane in spite of all the turmoil," Hamsa said.
Text messages and calls to Sreesanth's friends from two India Test players, a batsman and an all-rounder, who have been regularly inquiring about the fast bowler's condition in Tihar, too, have helped.
Support has also come from the family of the Bhopal-based girl Sreesanth is planning to get married to.
The families had met and finalised a September engagement.
"We were planning to have an engagement in September and the wedding after India's tour of South Africa, which Sreesanth was hoping to be part of. The girl has stood by Sreesanth's side even after the spot-fixing scandal broke. Sreesanth is aware of her support," a family member said.
Her father has been following the Saket court proceedings closely. In fact, he brought ladoos from Gwalior to distribute hoping that Sreesanth would get bail—before MCOCA was slapped against him.
Sreesanth has also been speaking to his family back home in the time allotted for phone calls.
 "His parents are really shattered but they remain in Kerala because they don't want to add to the trauma," Jayan Thekkedath, a close friend and a member of Sreesanth's Ernakulam Cricket Club, said.
Sreesanth has been able to take his mind off the trial by playing badminton, using the gymnasium and watching television for news about the trial and Champions Trophy scores.
As he is lodged in one of the `special cells' he is more at ease because he only has to interact with a limited number of inmates, which gives him a sense of security, his friends said.