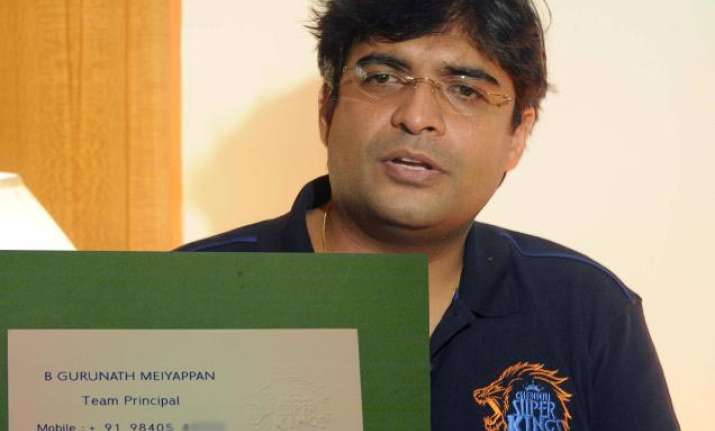 Mumbai/Chennai, May  27: N. Srinivasan-owned India Cements sought to hide the truth, when it said in its statement that Gurunath Meiyappan, presently in Mumbai police custody, was not its CEO or Team Principal.
India TV has, in its possesion, Meiyappan's visiting card, which clearly says, he was Team Principal of Chennai Super Kings in the Indian Premier League.
Moreover, a mail sent by to all "
IPL
team owners" by IPL chairman Rajeev Shukla clearly included Gurunath Meiyappan's name among the owners.
India Cements on Friday had issued a statement to say that Meiyappan was only an honorary member of the management of Chennai Super Kings, and that he was neither the owner nor the CEO or Team Principal.
But this statement flies in the face of evidences that are appearing before the media.  
Rajiv Shukla's Mail Lists Gurunath As Team Owner
BCCI president N Srinivasan has claimed that his son-in-law Gurunath Meiyappan is neither the owner of their team nor the CEO/ team principal but just a "young enthusiast" who travelled with the team. An India Cements press release had also claimed that Meiyappan is merely an honorary member of CSK team management. However, an email sent by IPL chairman Rajiv Shukla on December 24, 2011 to all the owners of the team mentions Gurunath's name as one of the recipients.
TOI has a copy of that email, which we are reprinting below. We have deliberately blocked out the email addresses of the owners in order to protect their privacy.
The mail begins by saying, "Dear owners, we will be kick-starting IPL Season 2012 with a workshop with all our stake holders on 9th and 10th Jan 2012...."
Shukla's mail also says: "On behalf of the BCCI, I invite you all to the IPL-Franchise owners round table meeting scheduled between 3pm-5pm on 9th Jan, 2012. This session is aimed to create a platform for only owners and IPL to interact and share thoughts to help build a successful league. From BCCI, along with me, the Office Bearers will join in the round table."
The press release issued by India Cements on May 24, 2012 had claimed: "Gurunath is only one of the Members (Honorary) of the Management Team of Chennai Super Kings."