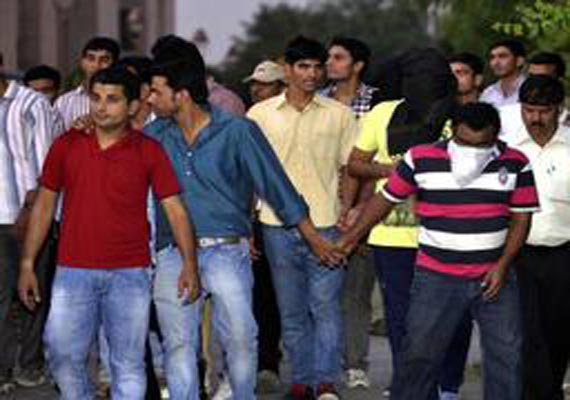 Mumbai, June 2: Alleged bookie Paresh Bhatia has been arrested by Mumbai police in connection with the Indian Premier League (IPL) betting scandal after being released on bail in Goa, and remanded in police custody till June 6, by a local court.
Mr. Bhatia was arrested on Saturday night by the city police's crime branch soon after he was released on bail by the Goa police, which had arrested him last week for betting.
N. Srinivasan's son-in-law Gurunath Meiyappan and actor Vindoo Dara Singh are among those arrested in the betting scandal.
Seeking Mr. Bhatia's custody, the crime branch said it wants to question him, Mr. Vindoo and Mr. Meiyappan together to ascertain further links.
According to the crime branch, Mr. Bhatia was the link between Mr. Vindoo and arrested bookie Ramesh Vyas. Mr. Bhatia was the one responsible for collecting deposited money from a particular bank account and distributing it among bookies and punters.
In its remand application submitted on Sunday before a metropolitan magistrate, the crime branch said Mr. Bhatia was in constant touch with Mr. Vindoo during the recently held IPL matches.
According to the crime branch, there are telephonic conversations recorded between Mr. Vindoo and Mr. Bhatia exchanging information about players and teams.
Advocate Rajesh Srivastav, appearing for Mr. Bhatia, opposed the remand plea and said the accused was arrested last week by Goa police in a betting case.
"46 mobile phones were recovered by the Goa police. Investigation is already done by them after which Bhatia was granted bail. He (Bhatia) has been falsely implicated in the Mumbai case and has no connection with Vindoo and Meiyappan," the lawyer said.
The metropolitan magistrate, however, accepted the crime branch plea and remanded Mr. Bhatia in police custody