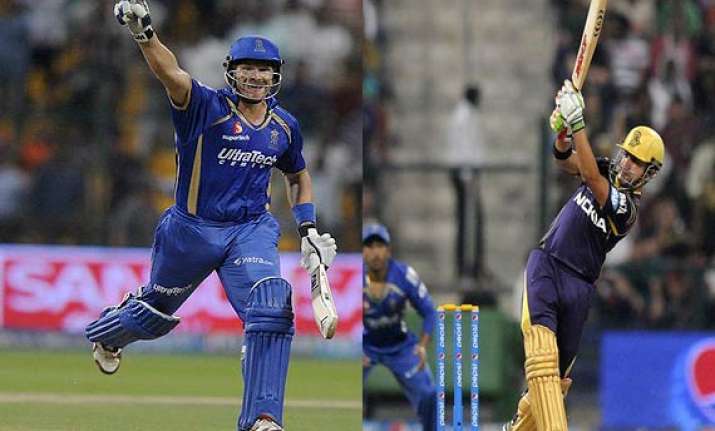 Ahmedabad:  The last time they clashed, Rajasthan Royals edged past Kolkata Knight Riders in perhaps the most nerve-wrecking contest of this season's IPL and itpromises to be another humdinger when the two teams with fluctuating fortunes square off.
Their most recent head-to-head took place on April 29 inAbu Dhabi, which was among three UAE cities which played hostto the IPL's first leg.     
That clash turned out to be a battle of epic proportions. Both the teams ended their regulation overs on the same score,before also finishing level in the Super Over.     
Finally it took a boundary count back to decide the match which was won by Royals in final analysis. And it would be interesting to see whether KKR would be able to pull themselves up from the slumber and extract revenge for the heartbreaking loss.     
Royals are better-placed as far as morale is concerned. The team chalked out a thumping win over Delhi Daredevils only last night with discovering a match-winner in young Karun Nair, who slammed a 50-ball 73.     
KKR, on the other hand, were thoroughly outplayed in their 34-run defeat at the hands of Chennai Super Kings in their most recent match.     
The biggest strength of Royals going into tomorrow's match is their in-form batting. The team is on a three-match winning streak and given the dismal form which Kolkata is battling, a fourth victory on the trot does not look unlikely.     
Royals' batsmen have been in fine form but more would be expected of the likes of Shane Watson and Sanju Samson, both of whom have been making decent contributions but yet to come up with something really big that they are famed for.     
On the bowling front, they have discovered the brilliance of leg-spinner Pravin Tambey, who has been making crucial breakthroughs. Pacer James Faulkner has spearheaded the pace department rather well with some good support from Dhawal Kulkarni and Kane Richardson.