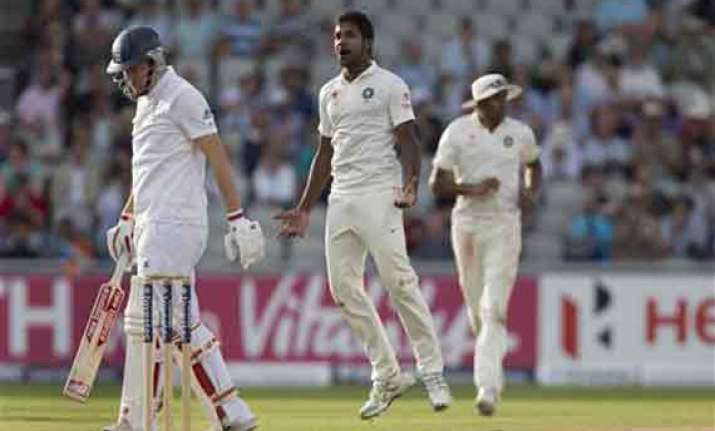 Manchester: Varun Aaron had a history of breakdowns and even went under the knife once but that hasn't dettered him from bowling quick as the young India speedster says he won't cut down on his pace come what may.
Aaron has so far dismissed three batsmen in England's first innings, two of which came on day one and then took another wicket on rain-hit day two at the Old Trafford yesterday.
"There is a clear message that I have got to bowl quick and yes shorter spells are better and helpful in that case. I have had five stress fractures but I don't hold myself back from bowling quick," Aaron told reporters after the rain-marred second day of the fourth cricket Test.
"When I was operated upon one-and-a-half years ago, my target was to be here on this tour. I had a good support system, the BCCI backed me and I worked hard at the NCA and at the MRF (Pace Foundation). I am glad to be here and I had a good match so far. I am feeling good with my bowling too," said Aaron pleased with his impressive comeback in Test cricket.
Almost two sessions were washed out yesterday with only 36 overs possible on day two as England reached 237 for six in reply to India's 152 in their first innings.