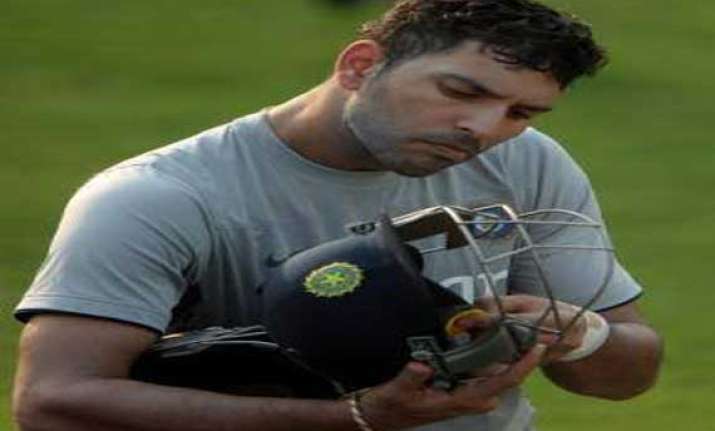 Mirpur: The left ankle injury during yesterday's barefoot football match today forced senior India batsman Yuvraj Singh to opt out of the team training session.
Yuvraj sustained the injury during the team's customary football session at the BCB Academy in Mirpur yesterday. Later, he was seen limping with his left ankle being protected by a crepe bandage.     
Yuvraj did not accompany the team for the training session at the Khan Saheb Osman Ali Stadium in Fatullah today. He was advised to stay back in the team hotel and take rest.     
"Yuvraj singh had a blow on his left ankle. For precautionary reasons, he is taking rest today," team's media manager Dr R N Baba said in a media release.     
It is not known whether he will train tomorrow or not.     
While the extent of the injury is not known, the idea of trainer Sudarshan to do something different could well cost the team dearly if Yuvraj does not get fit for Friday's semi-final match against the South Africans.     
Interestingly, Yuvraj had sustained a serious knee injury in 2006 before a Champions Trophy semi-final against Australia at Mohali.     
Back then, the Indian team, coached by Greg Chappell, played a game of 'kho-kho' for entertainment and Yuvraj twisted his knee while turning.     
But today, the team did not play football to start off training and straightaway started with their serious net session.