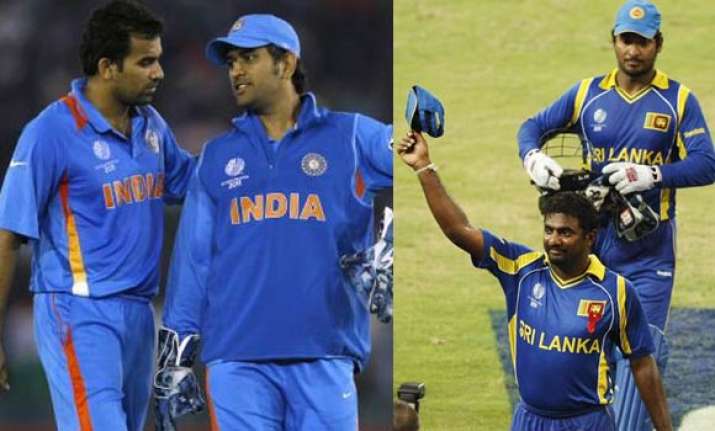 Mumbai, April 2 : With everything looking good for the Indian team on the eve of the cricket World Cup final against Sri Lanka, the team has attracted the attention of followers of form.

Besides, playing at Wankhede Stadium, the home of cricket in India, also made the hosts clear favorites in the betting market.

  Major betting sites like Ladbrokes, Betfair and Bet365 are offering average odds of around 60 paisa per rupee for an Indian victory while rivals Sri Lanka are available at an average odds of rupees 1.50 for every one rupee.

That bookies are offering lucrative odds against Sri Lanka also reflects that doubts over the participation of Muttiah Muralitharan in this high stakes game have not gone unnoticed by punters.

However, these odds are likely to change drastically once it becomes clear whether Murali will play the final or not on Saturday afternoon.

In case Murali is ruled out, the odds on India's win are expected to come down to 50 paisa and odds for a Sri Lankan victory go up to rupees 1.60.

According to early betting patterns, the prospectof Sachin Tendulkar scoring his 100th internationalcentury looks great with alot of bets being placed on him.

The maestro scoring a 100 and India lifting the Cup is available at a combined odds of 8/1 on Betfair. Betting is also heavy on Yuvraj Singh and Virender Sehwag scoring a century, with odds of 6-to-1.

But the actual scene will unfold on Saturday once the game begins. A lot will depend on who bats first and how the innings progresses.

 "As of today the volume of betting that has taken place till now is far below our expectations. However, given that the Indians are in with a real chance to win the Cup, we expect the scene to change by 2.30 p.m. on Saturday," says a bookie.

BETTING OPTIONS

& ODDS ON OFFER

Indian win: Ladbrokes (8/13); Betfair (8/13); (60 paisa in the Indian market);

SL win: Ladbrokes (5/4); Betfair (13/8); (14/10 in Indian market);

Sachin Tendulkar: Scoring 50 (2.68/1); scoring 100 (6/1); scoring 100 and Indian winning (8/1) and MoM (7/1) - all from Betfair;

Leading scorer in tournament: Tendulkar (10/11); T Dilshan (11/10); K Sangakkara (9/1) — all from Ladbrokes.