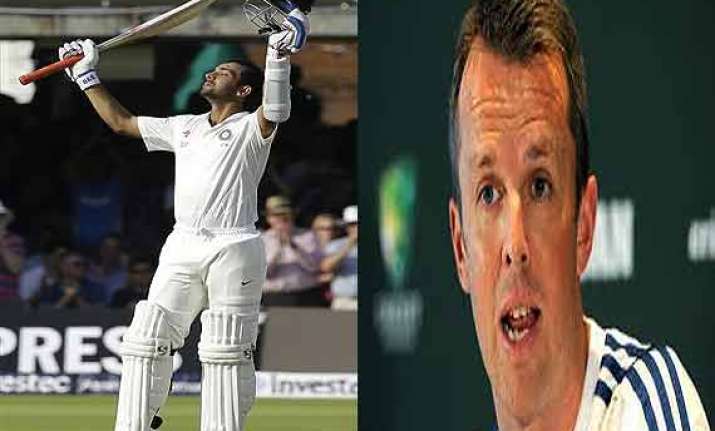 London:  Ishant Sharma might be the one earning gushing praise from all quarters for his match-winning seven for 74, but former England off-spinner Graeme Swann picked Ajinkya Rahane as the stand-out player in India's historic win at Lord's.
"Ajinkya Rahane was without a doubt the stand-out Indian player in the second Test. There is no way he could have ever batted on a wicket like this. He would have turned up on the first morning, and thought to himself 'How do you bat on a pitch like this?' And then he went on to get that beautiful hundred. That first innings was the difference in this Test," said Swann.     
"The way he batted, he made England come up with the most ludicrous tactic I could imagine. That's not about the bowlers or the captain, that is purely down to the batsman. For me, Rahane should have been the man-of-the-match, no doubt!" added the retired cricketer.     
India clinched their first Test win at the historic Lord's in nearly three decades, riding on Ishant's inspired spell of fast bowling that saw England losing their last five wickets for just 50 runs. The hosts slumped to 95-run defeat and give India a 1-0 lead in the five-match series.     
"Ishant bowled a splendid spell, don't get me wrong. But a few of those wickets were simply gifted to him by some really bad shots by the English batsmen. I was surprised that so many of them got out in the same way," said Swann.     
Rahane's 103 helped India recover from a precarious position of 145 for seven on the first day and notch up 295 runs in their first innings. "England wasted too many opportunities on the first day. They should have bowled India out for under-200 from 140-odd for seven, but they allowed them to get 295. James Anderson and Stuart Broad should be very disappointed with the way they bowled on the first day because it was a wicket more suited to
them. And that is the problem for England," said Swann.     
"The whole team isn't firing at the moment. You need senior players to step up at this time but there are too many players with bad form in this side," he insisted.     
Anderson and Broad bowled splendidly on a flat pitch in the first Test at Nottingham, but on a more helpful wicket here, they just couldn't rise up to the challenge.