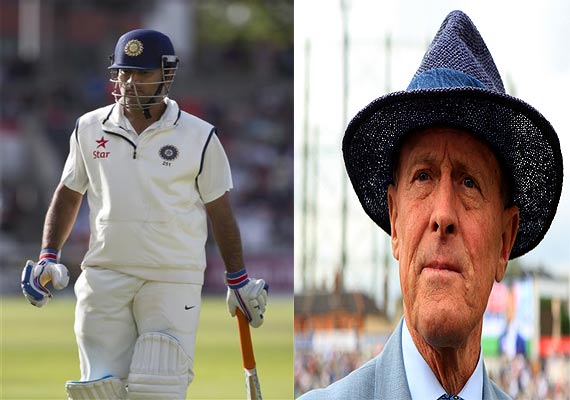 London: Former England captain Geoffrey Boycott said that the Indian players know that the Oval Test is already lost and praised India skipper Mahendra Singh for his valiant 82 in the first innings.
Thanks to Dhoni's 82, India made 148 before being bowled out by England.Boycott said the Indians know that the Test is already lost on the first day itself and that is the hardest part.
"The India players themselves know the game is lost. That's the hardest; it's soul-destroying because there's so much time. It's hard to motivate yourself and convince yourself you have a chance of winning," Boycott said on BBC Test Match Special.
Boycott praised Dhoni's style of batting on seaming pitches and said had it not been for the captain India's first innings score would have been embarrassing.
"We say Dhoni is unorthodox, but on swinging, seaming pitches he plays the ball late and under his nose so your bat and pad are close to your body. You might play and miss occasionally, but he doesn't get tortured by that - and when the bad ball comes along, he tonks it. He played a fine innings - not aesthetic - but without him, the score would have been embarrassing," he said.
The Englishman also blasted Indian slip-fielders, especially after
Murali Vijay
dropped a simple chance from England captain Alastair Cook off Varun Aaron.
"He (Vijay) doesn't have to move very far - you can't get any better than that. They're hopeless, aren't they? If you can't catch cuckoos like that, you've no chance," said Boycott.
Boycott was also not impressed with
Bhuvneshwar Kumar
bowling bouncers at 78 mph. "The brain gets scrambled. They just can't think straight. There's Kumar, bowling 78mph, bowling bouncers," he said.
Boycott also had words of praise for fellow Yorkshireman Gary Ballance, who scored 64 in the first innings. Ballance has scored more than 500 runs in the series, including two half-centuries and two centuries, with the highest of 156.
"The Yorkshire members will tell you Ballance is a man for the tough situation because he's mentally strong. Ever since he's come to the club, under pressure, he's been good," said Boycott.
The 73-year-old feels that opening batsman Sam Robson was simply not good enough. Robson fell for 37 on the second day Saturday and is yet to score a half-century since the first innings of the first Test.
"Sam Robson is not quite good enough. I watched his footwork; he's crouching - he's getting lower. Everything is tense, a la Nick Compton. When you have faults, they come back to haunt you. The great players, there is something relaxed about their stance. Batting is a fluent movement," he said.