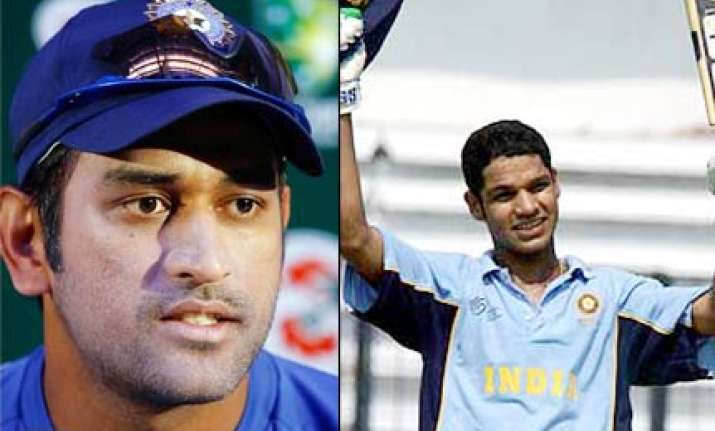 Visakhapatnam, October 19 (PTI) India captain Mahendra Singh Dhoni today said Shikhar Dhawan is likely to make his one-day debut in their match against Australia here on Wednesday.
12 more ODIs to go before the World Cup and Dhoni said they were preparing in the right direction though they were getting a bit more cautious and resting their main players for the tournament happening in the sub-continent.
With the stars in the much vaunted batting line-up not in action against Australia, it will be a chance for the youngsters to prove their mettle ahead of the World Cup, Dhoni said.
Dhawan is thus likely to open the innings with Murali Vijay in the absence of the regular openers Virender Sehwag, Sachin Tendulkar and Gautam Gambhir.
"Shikhar is most likely to be considered for a debut," Dhoni said and added that it's very difficult for a batsman to make the grade.
Having played Challengers Trophy alongside Dhawan in 2005, Dhoni has established himself in the Indian cricket while the Delhi opener is yet to play an ODI.
Dhoni feels it's difficult for an opening batsman as the competition is lot more tougher up the order.
"Both of us scored in the Challengers in Mumbai. I got a chance to establish myself in the national team (he had just played one ODI series in Bangladesh).
"As a wicketkeeper- batsman, you have got to fight with five, six or at best 10 players. But being an opener, you have to fight with more batsmen and you have to consistently do well," Dhoni said.
"There has been ups and downs in his (Shikhar) career but he has been quite consitent. As an opener it's quite tough, as you have Virender Sehwag, Sachin Tendulkar and Gautam Gambhir all at the same level. It's good that he got a chance finally. Hope he scores and the bench will become stronger."
"It will be a big learning curve for all youngsters. It's very important to live in the present... Small and basic things that needs to be done correctly to make a mark at the big level. I won't put extra pressure on them. Take one game at a time and give it your best shot," Dhoni said.
Asked about their World Cup preparation, Dhoni said: "In last few series, we have not played with our strongest side and rested most players. Maybe injuries were a bit more concern, we are a bit cautious," Dhoni said about the rotation policy of the selectors and added, hopefully in the next series "I will get some rest."
Apart from the remainder two ODIs against Australia, India will play five limited overs matches against the visiting New Zealand and then will tour South Africa for another five one-dayers.
Dhoni further said the track looks damp and there was some concern about the dew factor.
"It looks like a good track, but it will look different tomorrow before the start. It appears a bit damp. Yesterday, there was a lot of dew... We have to see and decide (at the tosses) accordingly."
It was in the same Dr Y S Rajasekhara Reddy ACA-VDCA Cricket Stadium, Dhoni first shot into limelight with a 123-ball 148 against Pakistan in 2005.
Ask India captain about it and he will be quick to point out that it's history now.
"That time was different... It's a different tournament. Every tournament you have to start from scratch. I have some happy memories of first game, I played here.
"To be on top, you have to get prepared for every game. It's not about the past, not about the future, it's all about present. It has become a two-match series. We hope for best," Dhoni said.
"Stadium has improved since 2005. In 2007, it looked like a completely different stadium. There are better facilites now. It's special every time you come here. Hope somebody, either a batsman or bowler, does something special tomorrow."
Dhoni says that whether it's his smashing 148 or Yuvraj Singh's 95, it's always been some kind of a memory associated with the VDCA ground. PTI