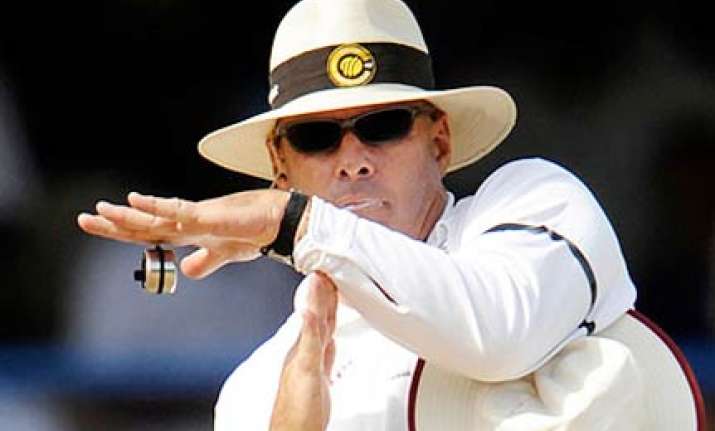 Mumbai, Oct 27: The International Cricket Council today left it to the Indian Cricket Board and its South African counterpart to decide whether to use the highly debated Umpires Decision Review System during the full series in South Africa.
"The BCCI is still not convinced about the reliability of the technology in the Umpires Decision Review System. We would leave it to the BCCI and Cricket South Africa to come to an understanding (whether to use it or not)," said ICC CEO Haroon Lorgat at a media conference here.
India 's tour of South Africa begins with the first of the three Tests at Centurion on December 16.
Lorgat was optimistic that India would finally get around to accepting the UDRS in every series they play.
"A lot of players are happy with the system. I am confident in due course the BCCI would give consent (to use the system)," said Lorgat at the function to announce ICC's five-year commercial deal for an undisclosed amount with money transfer major MoneyGram International.
Lorgat also said unless the host board puts everything in place for the proper use of the UDRS, it cannot be implemented, adding once everyone is convinced about the reliability of the system, it will be made mandatory in every series.
"Discussions will go on between CSA and BCCI whether to use it (UDRS) or not and CSA will eventually make a decision in consultation with BCCI," Lorgat said.
South Africa are in favour of the UDRS and CSA Chief Executive Gerald Majola said they are trying to convince India to use it in the Test series.
"We have to persuade India because at the moment they don't want it," Majola said recently.
According to ICC regulations, the host team can take a decision on the use of UDRS after consulting the visiting country and Majola said they want to implement the technology as "it's the most fair way for decisions to be made."
However, the BCCI is not in favour of the system and have not agreed to using the UDRS in any series involving the country after the team got the wrong end of the system in the series in Sri Lanka a couple of years ago when they lost the Test rubber.
UDRS was not used in the home two-match Test series against South Africa early this year as well as India 's recently concluded Test series against Australia who had no problem in using the technology. The BCCI has also ruled out using it in next month's three-Test series against New Zealand .
South Africa , on the other hand, have used the UDRS three times in their last four Test series against Australia in the 2008-09 season, against England at home last season and against West Indies in June.
While former India captain Rahul Dravid approves the system, iconic batsman Sachin Tendulkar feels the use of technology must be foolproof before a call is taken on its implementation in matches. PTI