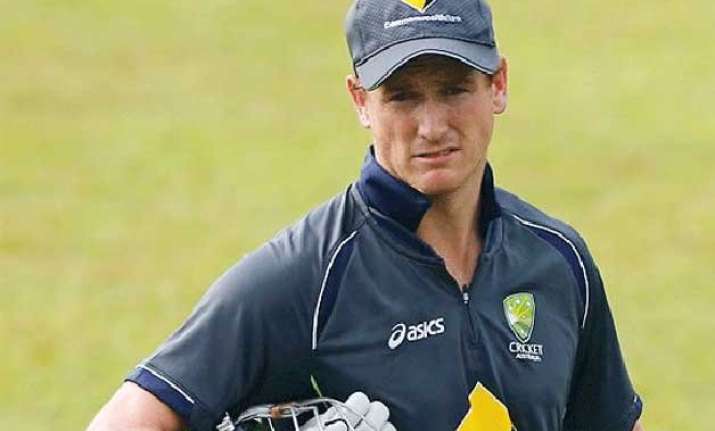 Sydney: His team is scoring runs in heaps but Australia's ODI cricket captain George Bailey has been struggling and the batsman is planning to promote himself up the order in the match against India here tomorrow to get back in form and avoid the axe.
The stand-in captain has been in poor touch recently and matters weren't helped when he was banned from the game against England on Friday owing to his side's poor over-rate.
"It's a very enjoyable thing to do, to captain your country. Tomorrow will be fun, captaining on Australia Day, that will be a real buzz. And you are scoring runs and you are not scoring runs - then you get picked or you don't. It's a really basic equation," said Bailey in a pre-match press conference here.
"If I'm not scoring runs and they don't pick me, that's fine, that's the nature of the game. It'll sound a bit silly but I think we've been batting really well as a group, so in terms of my role I've been coming in a touch later than when I was scoring big runs.
"So I feel like I'm batting as well as I ever have, it's just a matter of getting some balls in the middle. But hopefully we continue batting as well as we are at the top of the order and that role continues to be a finishing role at the end," he added.
With Shane Watson still missing owing to injury, it is expected that Bailey will bat at number three on Monday, in preparation for the World Cup.
Mitchell Marsh is back in reckoning and will bowl as Australia look to play Xavier Doherty on the slow SCG wicket. Mitchell Johnson will not be included in the playing eleven.
"I will probably get to bat higher up with Watson being out, however our line-up's structure will remain much the same as the other day," said Bailey.
"I think the spinner will play, Xavier Doherty will come back in and we're just finalising which quicks we're going to go with. Mitchell Marsh has pulled up really well. He has a good chance and if playing he'll be expected to bowl."
"I faced Mitchell Johnson last night and that's never pleasant, so his pace was still pretty good. He's had another hit out today. He's going reasonably well. I don't think he'll play tomorrow and he'll be building up for Perth," Bailey added.