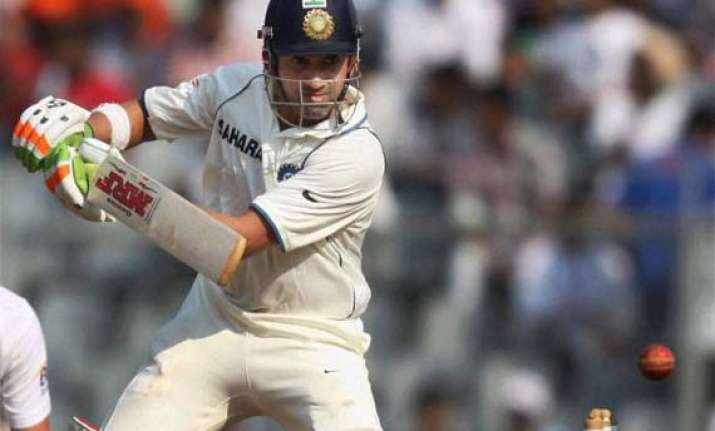 Mumbai, Nov  26: India are facing a crushing defeat against England in the second Test but an optimistic Gautam Gambhir is hoping that a miracle would happen and turn around things for them on Monday.
Left-handed opener Gambhir, who is fighting hard from one end with an unbeaten 53, said it has happened in the past when India wriggled itself out of difficult situations.
He recalled the 2004 Test match against Australia at this very ground when India pulled the rug from under the feet of the visitors, who were shot out for 93 chasing 111.
"Miracles have happened. Things have changed quickly. Any thing is possible if we can put runs on the board. If you remember there was a Test match here when Australia were bowled out for 70 or 80. It was my Test debut," said Gambhir.
"On Monday we will try. And be positive we have three wickets left. If we can get one partnership going and get 120-130 run target on the board the game is on. If we can be 113 for 7 then we can try and get them all out. They will also struggle to get these runs. We have to be positive. The important thing is we need runs on the board for the bowlers."
In that game Harbhajan Singh—one of the three Indian spinners in the current game—picked up five wickets while left arm spinner Murali Karthik bagged three as India won after conceding a 99—run lead to the Aussies.
Asked if Monty Panesar and Graeme Swann bowled better than the home spinners, Gambhir said the secret of visiting team duo's success was bowling at the right speed.
"I personally felt they (Panesar and Swann) bowled a little quicker in the air. When you have bite on the wicket and you bowl quicker in the air, some balls spin and some keep straight.
"I think at times we bowled too fast and at times bowled too slow in the air. On this wicket, which has turn and bounce, Monty and Swann bowled with ideal speed and that's what troubled us. We were getting turn and bounce as well. It was just the speed that made a huge difference," he said.