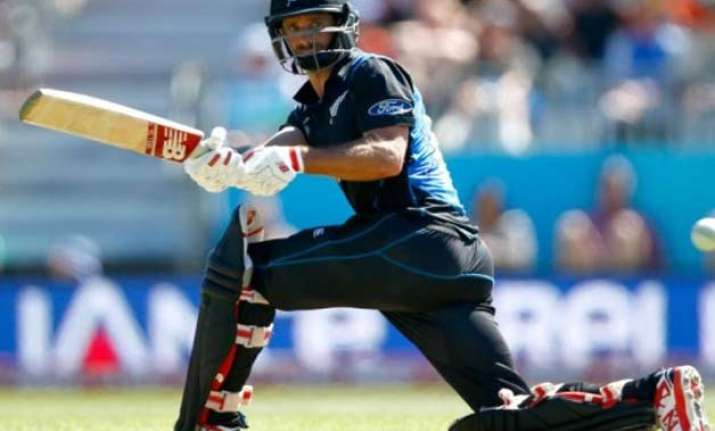 Wellington, New Zealand: As the Cricket World Cup semifinal between New Zealand and South Africa at Eden Park approaches, talk inevitably turns to what seems a perfect storm of scoring possibilities — big hitters and short boundaries.
South Africa and New Zealand jointly boast some of the biggest hitters in world cricket and Eden Park has the shortest boundaries of any established and regularly-used international cricket stadium. The outcome seems inevitable — a contest of record-breaking scores.
But New Zealand all-rounder Grant Elliott — who can view the stadium as both a batsman and bowler — says that while the ground's straight boundaries are among the shortest in world cricket it shouldn't be taken for granted that bat will always prevail over ball.
He can point in evidence to results on the ground in this tournament. When New Zealand played Australia at Eden Park in one of the most-anticipated matches in pool play, it bowled out the Australians for 151, then lost nine wickets in surpassing that total.
Swing bowlers dominated: Trent Boult took 5-27 for New Zealand, Mitchell Starc 6-28 for Australia, only one batsman reached 50 and there were only 11 sixes.
When South Africa played Pakistan on the ground in a rain-shortened match, Pakistan's 222 played South Africa's 202 all out. The highest score on Eden Park in this tournament has been India's wining 288-4 against Zimbabwe.
"Bowlers come into it a lot more. If it's not swinging on the day then you can expect anything at Eden Park," Elliot said. "It's quite a strange ground in the sense that it looks small and some teams get sucked in to those small boundaries. But the totals are not generally as high as you would expect."
The ground, designed to host rugby, is atmospheric as more than 40,000 fans encircle the playing area, pressing within meters of the boundaries. Their cheers, reflected back into the auditorium by cantilevered roofing, are amplified and reverberate, becoming almost deafening on the field of play.
"Obviously the crowd... phenomenal at Eden Park," Elliott said. "With the dimensions of the ground, someone said it was like a jungle last time we played there. But we've played there against Aussie and we've felt that atmosphere so I think this team is quite level and I don't think anyone will be overawed by the occasion."