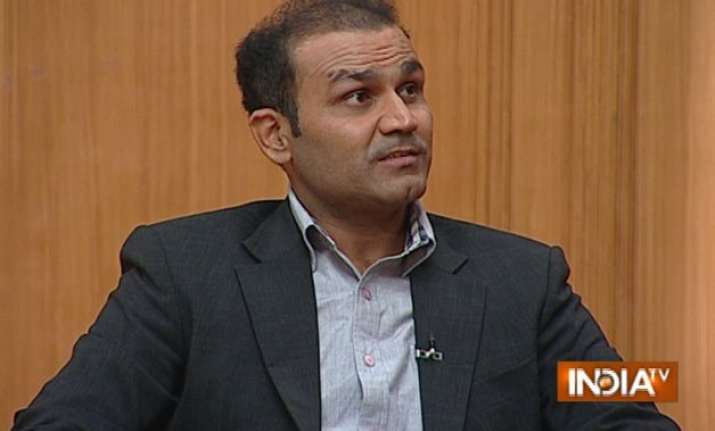 New Delhi: Former Team India batsman Virender Sehwag has said, captain M S Dhoni should not retire from one-day cricket till the next World Cup.
Replying to queries in Rajat Sharma's show Aap Ki Adalat, to be telecast on India TV on Saturday (October 31), Sehwag said: "He should continue as captain till the next World Cup. If he does so, he can leave behind a good World Cup team, and if he retires.. you can imagine, even now when Dhoni is there, people have to think about who should bat at 5th, 6th and 7th position...If Dhoni is not there, the 5th, 6th and 7th slots will become absolutely free and you cannot expect somebody to finish the match properly."
Sehwag, who retired recently from international cricket, dismissed reports that it was Dhoni who was behind the decision to drop him from Team India.
When Rajat Sharma pointed out that former skipper Sourav Ganguly had himself told a news agency that the captain had a hand behind dropping Sehwag from the team, the former Team India batsman said: "I don't think Dhoni would have done this. He is a nice man at heart. We senior players respect him, and when he first took over as captain, all senior players played under him, gave him guidance and nice suggestions, which he implemented during his captaincy and our team won in T20, ODIs and test matches."
Virender Sehwag in Rajat Sharma's Aap Ki Adalat will be telecast on Saturday (October 31) at 10 pm on India TV.