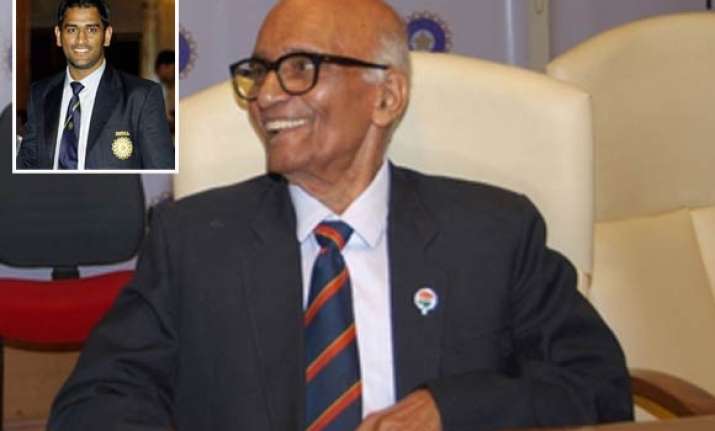 Mumbai, July 18: Considering that he played the last of his four Test matches in 1955, was no longer an active cricketer when the first ODI was staged in 1971 and well past his 80th birthday when Twenty20 took the world by storm, one thought Madhav Mantri would be a staunch critic of 'pyjama cricket.' Not at all!

"One-day cricket saved Test cricket then," he shot back. With an emphatic wave of the hand, he went on, "Now, Twenty20 will help us promote and preserve the game. All three formats can and will co-exist." But how?

A fairly long pause later, India's oldest surviving Test cricketer came up with an astute explanation. "In the 1960s, English county teams were struggling to stay afloat. Four-day cricket never quite attracted huge crowds and with ever-increasing costs, a solution had to be found. Someone suggested that one-day matches be organised on Sundays.
 
"The idea clicked. Suddenly, the stands were overflowing and more money came into the game. Those funds were, in turn, used to conduct Tests. Similarly, Twenty20 is the money-spinner today, but Test cricket is always the pinnacle." Wow!

One was convinced that with age, India's oldest surviving Test cricketer had only grown wiser. Besides keeping wickets for the country, Mantri served as national selector, Team India manager, BCCI treasurer and Mumbai Cricket Association president. His biggest service to Indian cricket, though, was introducing his dear nephew, a certain Sunil Manohar Gavaskar, to this great game.

India have achieved three series wins on English soil. So what are their chances this time? "Before appointing a general, Napoleon always enquired how lucky the man was. For lucky generals won you wars. This boy MS Dhoni is very lucky."

Mantri had made his point in a way only he can! Besides, he has immense faith in Zaheer Khan and Ishant Sharma, provided they bowl the right length.

When 'General Dhoni' has a 'soldier' like Tendulkar among his ranks, can anything go wrong? It may be noted that Mantri was manager of the Indian side that toured England back in 1990. And he can't but talk about that 'child prodigy'.

"Tendulkar was barely 17 then," he recalled, before adding, "In those days, the visiting side played at least half-a-dozen practice matches before the first Test. And we made sure that every member of the squad played in those games. Tendulkar had already played a few games and he, perhaps, knew he would have to make way for another junior player in the next encounter against Derbyshire."

A day later, Mantri was amazed at the young boy's hunger for exposure, and runs. "Soon after we wrapped up a practice session on the eve of the Derby game, Tendulkar came up to me and said, 'Sir, I have faced quite a few English fast bowlers already. Now, I would love to play West Indian pacers.' I told him that if he did well in the Tests against England, then the selectors would surely pick him for the tour of West Indies later that year. Tendulkar nodded and walked away."

"Later, the captain (Mohd Azharuddin) and vice-captain (Mantri doesn't remember who it was) showed me the playing XI for next day's game. I realised that Tendulkar was dropped. I narrated the episode to Azhar and requested him to play the chap. They agreed."

Believe it or not, Tendulkar wasn't thinking of the Caribbean tour when he approached Mantri that day. In those days, Ian Bishop used to play for Derbyshire. And Tendulkar badly wanted to face him. "I realised what Tendulkar implied when Azhar reminded me that Bishop was part of the Derby squad. We had a good laugh and fulfilled the lad's wish," Mantri said.

It was a 55-overs-a-side game, played at Chesterfield, and the hosts made 235 for six. Tendulkar walked in at after Navjot Singh Sidhu was out. "I remember that knock. He was in sublime form," Mantri said, before revealing a stunning fact, "Tendulkar was on 94 and Bishop decided to bounce him out. And you know what he did? He hooked the tall guy for a six to get to his 100!"

The delight on Mantri's face was worth a million dollars. For the record, Tendulkar remained unbeaten on 105 and India eked out a two-wicket win.

"The rest, like they say, is history," Mantri said. "I also remember his first Test century at Old Trafford. We were following on and he came up with a flawless knock." When reminded that the maestro is now a ton away from a mind-boggling 100 international centuries, Mantri shot back, his voice slightly raised.

"You reporters keep writing this and that. He doesn't think of records but you keep reminding him!" But the kind man that he is, Mantri quickly let out a hearty smile.
Mantri played four Tests from 1951 to 1955 and hence, recalling events and anecdotes becomes rather easy. In only his second Test match, played at Headingley, India lost to England by seven wickets. England had scored 334 in response to India's 293.

Mantri had kept wickets for a painstaking 165.2 overs and understandably rushed to the massage table when openers Pankaj Roy and Datta Gaekwad went out to bat in the second essay.

Two minutes later, someone yelled out, "Madhav, the skipper (Vijay Hazare) wants you in the middle." Roy had just been castled by debutant Freddie Trueman and a bedazzled Mantri quickly padded up. India were 0/1. Gaekwad fell to Bedser and India were still 0/2.

"I had batted at No 8 in the first innings. And now, I was in at No 3! Trueman was bowling extremely fast and he did me in with a beautiful delivery. The ball pitched on leg stump and came back to hit the off stump. Years later, I asked Freddie why he wasted such a magical delivery on a batsman like me. The simpleton that he was, Freddie complimented me, saying I was a smart batsman," Mantri recalled.

Mantri crossed Vijay Manjrekar on his way back to the pavilion. "He looked at me and muttered in Marathi, "Mala bakra banaola" (I've been made the sacrificial goat). Hazare wanted to avoid the pressure of going in at 0/3 and sent Manjrekar in. And yes, he, too, fell for a first-ball duck. Trueman was now on a hat-trick. It should have been 0/5 but Hazare played forward and got an inner edge and the ball missed the leg-stump by a whisker." Hazare and Dattu Phadkar scored 50s, and we made 165. However, England beat us by seven wickets," Mantri added.

This selfless servant of India may be less than 40 days away from his 90th birthday, but he is, undoubtedly, in the pink of health. Mantri doesn't have a Test century to show, but with his disciplined lifestyle, he looks certain to cross that mark in life.