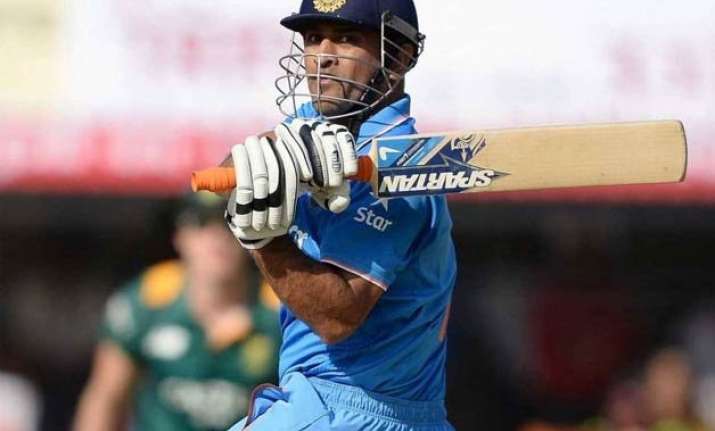 Rajkot: Skipper MS Dhoni sprang a surprise in the third ODI at Rajkot by shuffling the Indian batting order. Virat Kohli walked in at No.3 instead of Ajinkya Rahane who had taken custody of the position in the first two ODIs.
Dhoni also promoted himself to No.4 with Rahane eventually arriving to bat at the unfamiliar No.6 slot. It was unexpected since Dhoni had said before the series that Rahane could fit into the XI only if he batted in the top 3.
Dhoni explained the rejig by suggesting that he wanted to give himself more time in the middle and that the other batsmen would have to accommodate him when the situation demands.
"I want to bat up the order but I also want people who can contribute lower down the order. So I have to mix and match it and what will be good will be if I can bat a number of overs, create a partnership and if I have played enough deliveries I can play the big shots later on," Dhoni said.
"That's the thinking behind it, but it means that a few of the other batsmen will also have to accommodate according to that. They may score at times, they may not score at times, but the good thing is they'll get experience of batting down the order," he noted.
The skipper also suggested that a flexible batting order would help everyone understand the pressures of batting in different positions.
"At times I felt the Indian batting line-up becomes quite rigid - 'This is my batting slot and there is where I will bat' - but at times when you bat down the order you get to know what are the difficulties. I won't say it's easy to bat up the order but you always have the cushion of three-four batsmen behind you so you know you can play your big shots. But once you are batting at five or six, No. 7 is quite thin so when you are looking to play the big shots, you have to back yourself and say, 'Okay I can't really mistime it.' These are the pressures that you have to go through if you are batting down the order," he declared.
Dhoni took a dig at the media by saying that it was confused about who should bat in which position. "If I have to bat up the order, someone has to bat down the order," he said. "There's a lot of confusion when it comes to the media side because they want me to bat at four but they want Virat to bat at three and they want Jinx (Rahane) to bat at four. It's not really possible, there are only two slots and only three batsmen," he pointed out.
He said that star batsman Virat Kohli would have enough time to score a hundred even if he sometimes batted at No.4. "As I said, I've explained it, we want Virat to bat at three but at some point we'd love to have a look at him at four. Usually the No. 4 batsman will get to play 30 overs and 30 overs is a good number of overs to score a hundred and it also adds depth to our batting."
Dhoni added that he was still looking for someone to fill the crucial allrounder's slot at No.7 and if no good candidate is available, the team would have to play with six batsmen and five bowlers.
"Not to forget we are still looking for somebody at No. 7 who can play the big shots and if that doesn't happen, the extra pressure has to be absorbed by the top six batters. So you have to find people who fulfil that job and also you have to play with five bowlers because the part-timers find it slightly difficult to bowl full quota of ten overs. So there are a lot of things that you have to manage and accordingly decide which person suits the position the best," he said.