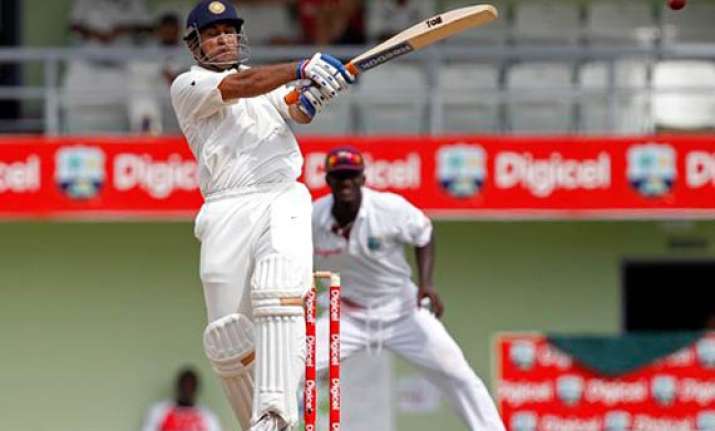 London, July 20: "It's obviously big, leading 15 people who have the expectation of 1.2 billion," Dhoni said, in a rare and exclusive interview with Telegraph Sport.
"It's an honour, it's very special. But at the same time it's an added responsibility. You want the Indian team to win each and every game, which is not possible. Still, that's what you are expected to do."
 
Is there a more impressive man in world cricket?

England captain Andrew Strauss describes himself as a winner, but for all the kudos of his three Ashes triumphs, the man on the other side of Thursday's coin toss has done it all: World Cup, World Twenty20, World No 1 in Test cricket.

And he has done it with such serenity and poise that you would think he was still playing in a tape-ball street game back in his native town of Ranchi.

This is one of Dhoni's greatest talents: the ability to transmit calm and relaxation to his players when things are tight.

Yet it is something of a conjurer's trick, for he is keenly aware of the responsibility he carries. Indeed, he himself sometimes feels the need to escape from the pressures of fame climbing aboard one of his 25 beloved motorbikes.
 
"If get the chance," he says, "somewhere in Delhi or Mumbai I will take my bike out, take the helmet with me and go around for a ride."

The face that launched a million billboards, Dhoni enjoys the trappings of success, and deservedly so.

At the same time, though, he remains rooted in the simple work ethic of his family, who hail from the economically underprivileged state of Jharkhand. In as much as he has a home at all – rather than a nomadic existence on the team bus - he continues to live in the family house in Ranchi along with his parents and his brother Narendra.

"Since 2005, I have not spent much time with my family," he said, thinking back to the year of his Test debut against Sri Lanka. "In fact I have spent more time at the Taj Landsend in Mumbai. It was my 100th visit recently, which means I have spent more than 400 days in that hotel, and that is a lot more than I have spent with my family.

"I feel awful as I am talking right now," he added, "because I miss my parents. But at the same time I know I will have fair amount of time with my parents once I finish cricket, after these two, or three, or four years - whatever it is. My wife tells me when I am not around at the house, 80 per cent of the conversation is about me. But I told my dad, this is the time when I am doing something for the country, and the country comes first. I feel he really understands that."

The son of a work supervisor at Hindustan Steel, Dhoni was just 15 years old when he began to establish a reputation in his home town.

"It was a 35-over game, the school league final," he said. "I scored 213, and hit seven or eight sixes, and those were big sixes, I was quite famous in Ranchi from quite early."

It was still too early to be confident of a career in professional cricket.

Especially as the Indian game had yet to become the billion-dollar industry that it has now, "In those days," he recalls, "people would say, 'OK you play cricket but what do you do in life?'"

So he took a job as a railway ticket collector in Kharagpur, a town in West Bengal. Now, of course, he couldn't even get on a train without the well-wishers bringing it to a rasping halt.

It didn't take long for South Eastern Railways to realise what a talent they had on their hands, and after just six weeks' work he was taken out of the carriages and sent off to play for their cricket team.

But this sort of corporate patronage has declined since privatisation came to India, much to Dhoni's disappointment.

"I played for Central Coalfields Limited and for Indian Airways," he said. "Those were the years when I improved myself, playing on turf pitches which are rare in India. Today, though, competition is tough in the business world, and it has become a luxury to support young sportsmen."

To help cover for the missing funds, he has launched his own charitable foundation in Ranchi, with the intention of giving tomorrow's Dhonis the backing he once had.

"Things just fell into place for me," he says modestly. "India were looking for a wicketkeeper, and even though I was unorthodox and didn't have a great technique, my friends said, 'You can hit the ball, you're ideally suited for one-day internationals.'

"When I came in I was more of a slogger, trying to hit every ball, irrespective of the format. But then I used to bat at No 3, so you've got five really good players backing you up if you don't score. Now I'm batting No 6 or No 7 in the one-day internationals, so I've only got bowlers behind me, or maybe one good batsmen.
 
"People say, 'Why are you not hitting those big sixes?' Often I joke that I'm getting old and I don't have the strength. But time has changed. Now it's all about the requirement of the game, if the situation doesn't require me to hit sixes, why should I? It's the singles and doubles which really excite me now."

Dhoni's six quotient has certainly dropped in recent years, but there was one recent instance that no cricket lover will easily forget.

With this year's World Cup final in the balance, and India looking vulnerable at 114 for three, he sent himself in and took control of the situation in a 109-run partnership with Gautam Gambhir.

It ended emphatically, when he picked up a ball from Nuwan Kulasekara and sent it back over the sightscreen just like the old Dhoni.

"It was instinct rather than a plan," he explains now, "but I did say to myself if it is in the right area, I will go for the big shot. I hadn't flowed during the Cup, but form is something that goes in one or two innings and comes back in five to 15 deliveries. It's the state of mind that is important. I'm glad I promoted myself, because it gave me the chance to do something special for the country."

Which is what Mahendra Singh Dhoni is all about.