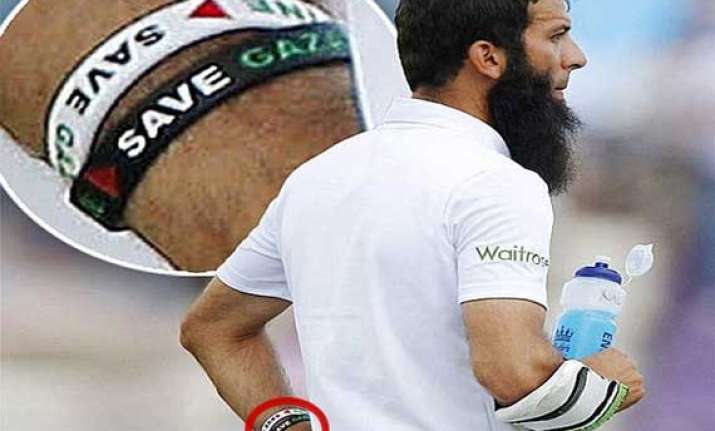 New Delhi: Despite ban on England all-rounder Moeen Ali for wearing wristband with 'Save Gaza' and 'Free Palestine' slogans there are cricketers who have decided to defy ICC and follow suit.
Moeen Ali was seen wearing wristband with 'Save Gaza' and 'Free Palestine' slogans written on it while batting in the third test against India On Monday.
After the incident ICC banned him from doing so despite the ECB believing he had breached no protocols.
However, there was a growing feeling on Tuesday night that fellow Muslim cricketers were ready to defy the authorities by playing in similar wristbands.
Former Pakistan all-rounder Azhar Mahmood vowed to wear a similar band when he plays for Surrey in their T20 Blast quarter-final against Worcestershire on Saturday at The Oval.
Moeen's cousin Kabir Ali, who played 14  one-day internationals and a Test for England between 2003 and 2006, described the ICC's decision to sanction Moeen as an 'absolute joke'.  
Moeen is a devout Muslim who wears a beard as a mark of his faith.
England's cricketers all wore shirts with a message of support for Help for Heroes on Tuesday as part of the commemoration of the 100th anniversary of the start of the First World War.
'Part of the reason we went to war in places like Iraq was to fight for things like freedom of speech,' said Corporal Neil Heritage, who lost both his legs in a suicide bomb attack in Iraq in 2004 and has been supported by Help for Heroes since.
'I have no problem with a sportsman or woman making a political statement.'
Others had less sympathy for Ali, who received a stinging rebuke from former England bowler Steve Harmison for making a political statement while representing his country.
'He's been a silly boy,' Harmison said. 'He's a cricketer, it's a cricket field and he shouldn't be wearing that. He has been a bit silly and naive.
'If he wants to do it away from the field, that's fine, nobody has any problems with that. To do it on the field is a dangerous thing to do.'
An ICC spokesman said: 'The regulations do not permit the display of messages that relate to political, religious or racial activities or causes during an international match.