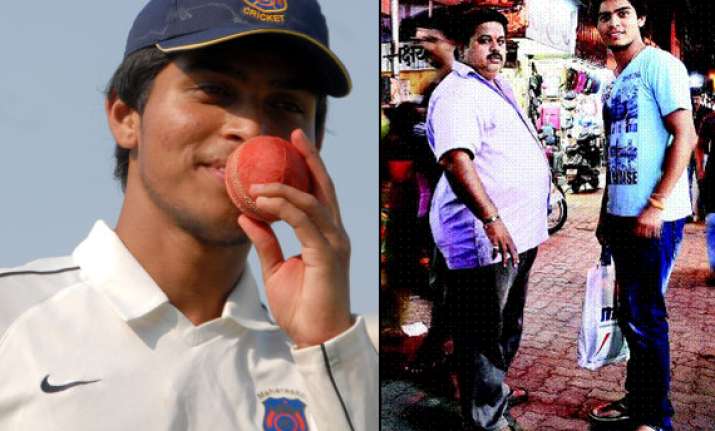 Mumbai, April 28: On Friday,the BCCI announced a 15-member India A squad to tour the West Indies.
The team included  Akshay Darekar, son of a Dadar handbg seller Arun Darekar.
Left-arm spinner Akshay joines the likes of skipper Cheteshwar Pujara, Rohit Sharma, Ajinkya Rahane, R P Singh and Manoj Tiwary  in the team .
Akshay  plays for Maharashtra, while his father Arun hawks bags by the footpath near Dadar Railway Station, under the small board that reads Akshay Bags.
Akshay has suddenly shot to stardom among his neighbours.
In a corner of the messy,overcrowded and utterly chaotic Chhabildas Lane near Dadar Railway Station,a waiter from an eatery nearby stops him in his tracks,asking him to pose.  Akshay offers a shy,half-a-smile;the waiter clicked on his mobile phone,and disappears into the crowd, reports Mumbai Mirror.
Akshay's father, a handbag seller was watching the entire scene from a distance,his face beaming with pride
.Suddenly,the bag seller realised it was time to shut shop early;after all,his son Akshay Darekar,who had just posed for the waiter,was Chhabildas Lanes first cricket star.
Akshay realises the real star is his 'father;  but he is too shy to sing his praises.
It's not needed, as long as the 23-year-old continues to take wickets by the bagful.
Akshay  was the top wicket-taker in the Ranji Trophy Plate Division last season, but this selection is a huge surprise, says his father.
Arun can afford to dream big now. After all,India A berth is just a step away from the main team, unless things go drastically wrong.
On Friday,  Arun was reliving a dream.  He had arrived at this footpath decades ago,  when he was just 10-year-old.
"Right here on this footpath, I started my small business.   I have been a fighter, and I am happy to see the same quality in Akshay", he said.
After making his first-class debut for Maharashtra last season,  Akshay  claimed nine wickets from five matches in the 2010-11 Syed Mushtaq Ali Trophy.
Although he held his place in the Maharashtra side, he failed to strike regularly.
"I couldn't take the number of wickets I would have loved to.
"Last season I was bowling to contain runs; hence ,I was not successful in claiming that many wickets.
"But at the start of this season, it all changed when I bowled with wickets in mind", says Akshay, a student of Khalsa College.
The left-arm orthodox spinner took 32 wickets for Maharashtra in the recently concluded season at an average of 17.43.
Growing up in a small dingy room with family of 17,   Arun says making a cricketer was never going to be an easy job.
"For me, it was always hard to make a cricketer out of him.
"Running the shop I had to provide Akshay with whatever he asked for. Then it was about dropping him to the ground and getting him back", Arun said.
Both Arun and Akshay are huge fans of former New Zealand skipper Daniel Vettori.
"I watch him closely. And when I did not do well in the first season and fell short of variations ,I emulated him and managed to bowl the sliders just like him.It did work for me", Akshay said.
Akshay, 23, has never been lured by the IPL.
"It's not that I don't like the format;  I want to focus on the longer version.  But if I get the offer not that I am going to reject it", he said.