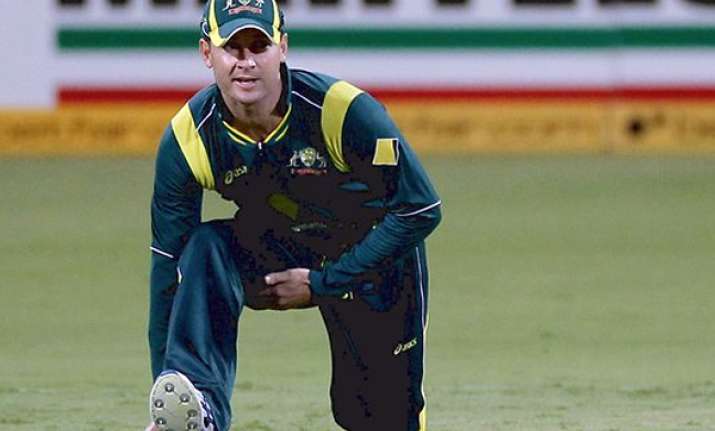 Adelaide, Mar 8: Australia skipper Michael Clarke has been ruled out of the five-match limited-overs series in the West Indies later this month, but selectors are hopeful he'll recover from a left hamstring injury in time to play in the test series in the Caribbean.

Scans confirmed the extent of the hamstring strain which sidelined Clarke for the series-deciding tri-series final against Sri Lanka on Thursday.

He scored 117 in the second final, which the Sri Lankans won by eight wickets to level the best-of-three match series, but was visibly favoring his left leg as he was run out late in the innings.

"Michael's scan yesterday has confirmed a left hamstring strain and he will not travel with the team to the West Indies," Cricket Australia physiotherapist Alex Kountouris said in a statement. "He will take part in an intensive rehabilitation program in Sydney and we expect that he will recover in time to take part in the test portion of the West Indies tour."

Clarke was only two matches into a comeback from a right hamstring strain that kept him out for three matches in the league stage of the tournament, and he has a history of lower back problems. His absence was a major setback for Australia, which has lost four of its last five one-day internationals against Sri Lanka.

Clarke has admitted he may have rushed back too quickly in order to play the tri-series finals.

Allrounder Shane Watson led the Australians on Thursday against Sri Lanka and will be captain when the team leaves Friday for the Caribbean.

Clarke, who replaced Ponting as captain last April, was recently voted Australia's player of the year and has been in outstanding form with the bat in the one-day international and test formats.

After the five ODIs from march 16-25, Australia will play two Twenty20 internationals before the three-test series starts April 7 at Bridgetown, Barbados.