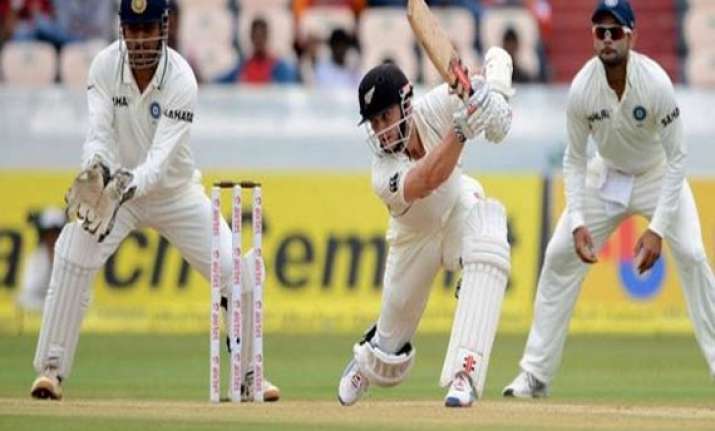 Auckland: It's a new game and new format and what battered and bruised India would look for is a total turnaround after losing ODI series 4-0 when they take on highly confident and rejuvenated New Zealand in the opening match of a two-Test series starting here Thursday.
The Indians not only lost
five-game ODI series but also surrendered their number one status in the ICC rankings. Now their number two ranking is at stake and if they have to retain the position, they will have to at least draw the series.     
As preparation for test series the visitors played a two-day warm-up game ahead of the Tests which ended in a draw and gave them mixed results as far as individual form of the players was concerned.     
With the exception of Pragyan Ojha (Ishwar Pandey replacing him), this is the same Test squad that lost 1-0 in South Africa before this tour.     
And after the departure of Sachin Tendulkar, with Indian cricket turning over a new page, that was a respectable result in more ways than one. India's young batsmen, untested abroad in the longer format, held their own for nine days before losing on the final day of the two-Test series.
---
     
The bowlers, led by the experienced Zaheer Khan, too put in a noteworthy performance, very nearly scaring the Proteas into defeat in the first Test at Johannesburg.
     
That tour made for a fine marker to carry on from, except the ODI losses thereafter may have undone some of the good work.
     
This is partly because, barring Murali Vijay and Cheteshwar Pujara, the Indian batting line-up bears the same look in both formats.
     
And that is worrisome because only Virat Kohli and skipper Dhoni have scored any runs recently. Rohit Sharma has failed to convert his starts into anything substantial, while Ajinkya Rahane has struggled to find his footing here.
     
While the former has immense backing from the team management, the latter had a good showing in the African Tests to draw confidence from.
     
As always though, India's problems begin at the top of the order, wherein Shikhar Dhawan has looked ill at ease ever since he left home.