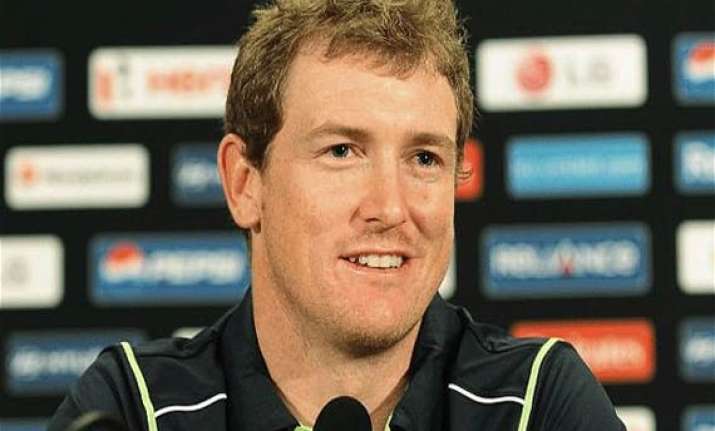 MIRPUR, Bangladesh: Australia captain George Bailey said Saturday he is confident of a good showing at the World Twenty20 but is nonetheless concerned about facing Pakistan's renowned spin attack in his team's first match on Sunday.
"They've got three spinners in the top 10 in T20 cricket," Bailey said, referring to the spin trio of Saeed Ajmal, Shahid Afridi and captain Mohammad Hafeez. "They're a very, very strong spinning side and the conditions can be challenging for us over here. But I think we've certainly got a strong batting line-up at the moment that hopefully can overcome them." 
Australia has a robust batting lineup with David Warner, Aaron Finch, Shane Watson and Brad Hodge, all potential match-winners in the 20-over format.   
Bailey said he also feels this team is better than the one that played in the last World Twenty20 in Sri Lanka two years ago, despite the absence of Mitchell Johnson and left-arm pace bowler James Faulkner being ruled out of the match against Pakistan due to a knee injury.   
"In comparison to the last T20, we have more versatility with the ball and are a bit more powerful with the bat. A lot of our players have played in India. I don't think conditions will be much different here," Bailey said.   
Bailey said his team has seen most of the Pakistani cricketers play in recent years and knows what to expect.   
"I think spin plays a huge role in T20, wherever it's played in the world. It tends to go one of two ways but certainly in these conditions, it tends to be match-winning. It's a challenge. We know we are going to face lots of spin, we know we are probably going to bowl a lot of spin," he said.   
Bailey said that although Pakistan lost to archrival India on Friday, the squad at least had the chance to see the conditions on the pitch and make adjustments before facing Australia.   
India coasted to a comfortable seven-wicket victory, with legspinner Amit Mishra bagging 2-22.   
Defending champion West Indies and host Bangladesh are the other two teams in their group. In the other match on Sunday, India will take on the West Indies.