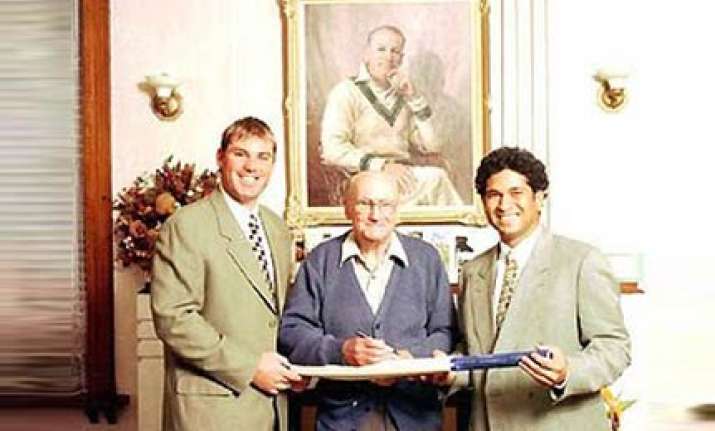 London: Instead of his unmatched average of 99, the late Sir Don Bradman saw himself scoring at just 70 in the modern times.
But why 70? "'Come on, an average of 70 is not bad for a 90-year-old man'," came the tongue-in-cheek response from the legendary Bradman to Indian icon Sachin Tendulkar when the two met during the Aussie's 90th birthday celebrations.
Considered the greatest batsman of all time, Bradman died in 2001 aged 92.
Tendulkar was among the select few who were invited for the Aussie great's 90th birthday and it was during the course of this meeting that the two discussed averages.
Tendulkar has often been compared with Bradman with the great man himself calling the Indian his mirror image.
The 37-year-old Mumbaikar fondly recalled some special moments he spent with the late Australian and gave away the little anecdote about how Bradman saw himself as a player in the modern times.
"We went to see him on his 90th birthday. It was very special. We were talking about averages and I said, 'Sir Don, if you were playing today, what would you have averaged?' And he said, '70 - probably.' I asked, 'Why 70 and not your actual average of 99?' Bradman said, 'Come on, an average of 70 is not bad for a 90-year-old man'," Tendulkar told 'The Guardian'.
"This is what I tell my son. Whether you're an 11-year-old boy or Don Bradman we should never forget it's just a game we can all enjoy."
Bradman averaged 99.94 in 52 Tests scoring 6996 runs - including 29 hundreds and 50 half centuries. PTI