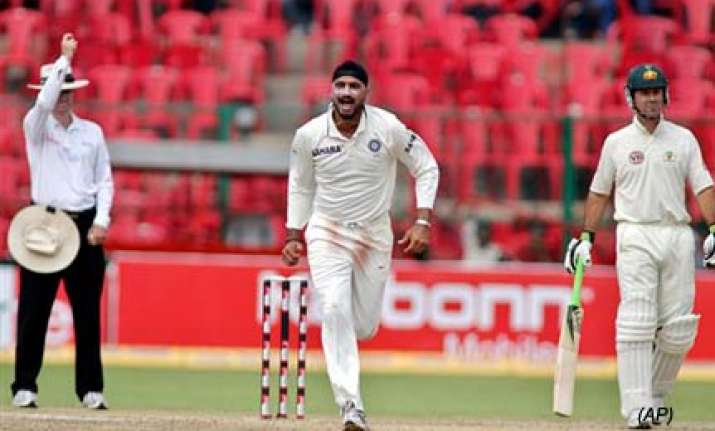 Team India off-spinner Harbhajan Singh has said the Australian players were short of ideas during the current tour though they did not lack capability. 
In an interview to MidDay, Harbhajan Singh said: "His(Ponting's) team doesn't lack ability, but is struggling to respond in pressure situations. Ponting tried his best, both as a batsman and captain. However, sometimes during the series, I felt that Australia were short of ideas. They were trying to copy our tactics from the first-innings. They lacked imagination. You need to be thinking on your feet in such a high-pressure series. One cannot let ideas dry up."
Excerpts from the interview:
 
Where would this victory rate as compared to 2001 and 2008?
We won the series -- and that makes me more than happy. It is very difficult to compare the wins as each win has had its own significance. Every series win is important for us.
In 2001, we came back from an impossible position to win. In 2008, it was filled with emotions with the retirements of Sourav Ganguly and Anil Kumble. This series, too, has its own significance. These are the sorts of moments we live for as cricketers.
Considering Australia's inexperienced bowling attack, did you expect a 2-0 result?
Honestly, when compared to the Australian teams that travelled here before, this is probably the weakest. In terms of bowling, they are highly inexperienced.
In batting, too, apart from Michael Hussey, Michael Clarke, Ricky Ponting and Simon Katich, their line-up was weak. Shane Watson is a good batsman, but he could be vulnerable if we plan something ... like bowl to a particular field. He can be pressurised.
On a lighter note, did you surprise yourself by not dismissing Ponting even once?
(Laughs) That goes on to prove that he wouldn't have got three knocks of over 70 if I had removed him.
On a serious note, I thought there were some very close calls in the last innings at Bangalore. I could have got him there.
Having said that, I must credit Ponting for playing a lot better this time around in India. He was definitely a lot more confident.
Do you have a new-found respect for Ponting?
I have no doubt in my mind that Ponting is a great batsman. There's a lot of responsibility on him, so I do feel for him at times. He was quite unlucky in this series; was run-out in Mohali and got out unluckily in Bangalore. He didn't get a century, but that's not everything.
He was still their best player and shouldn't be blamed because others were not clicking. All in all, this was surely his best performance as a batsman in India. 
Symonds said recently that you should have been punished for what happened in Sydney, 2008...
It is quite silly if he feels that way. Whatever happened (at the time) was in front of others and things were buried fairly. It is a thing of the past now. We all need to move on. If I was wrong at the time, I would have been punished. Nobody escapes from mistakes.
When I saw that interview recently, I laughed very hard because he kept blaming me for drinking a lot. It is very wrong on his part to say that. I was also involved in that incident, but that clearly shows it is important to be strong enough to make a comeback.
It is not fair to blame others. We are all mature individuals. Nobody stopped anyone from playing cricket and it hurts when Symonds blames me for ending his career.
What do you make of Symonds as a cricketer?
I can guarantee you one thing -- he would have easily played for Australia for another five to 10 years with the kind of ability he possesses. He is a great batsman, and one of the best fielders I have seen. Symonds is a fantastic athlete and a true match-winner. But he cannot keep blaming me for these things.
I just want him to grow up and become mentally stronger. I just want to bury the hatchet with him. If he wanted to play for more years for Australia, he should have been stronger. I want to play for many more years for India, and will never allow any incident affect my career.
Two consecutive series wins against Australia. Is this redemption for Sydney?
Whatever happened in Sydney Test is behind us. That incident made us stronger and brought us closer as a team. We cannot keep talking about that series.
We have moved on to bigger and better things. Our focus is to win every Test series -- whether it is Australia, New Zealand or South Africa. I don't believe in the concept of revenge or redemption because we need to be humble and focus on one win at a time. I never think of the past.