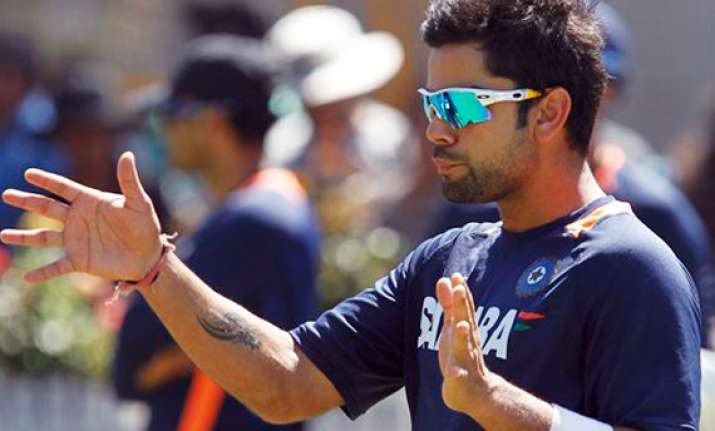 Adelaide, Jan 26: Centurion Virat Kohli today lashed out at the Australian players for "constantly" indulging in sledging and the local fans Down Under for not treating the Indian cricketers with respect.

"They (players) sledge when they get frustrated. Obviously it was hot out there. Constantly they were sledging the players so that they could spoil their concentration.

"During that partnership (between him and Wriddhiman Saha) they were really, really having a go," said Kohli who slammed 116 in India's first innings total of 272 on day 3 of the fourth and final Test here.

There was one particular moment in the field when Kohli had a verbal duel with Ben Hilfenhaus in the middle after he had just survived a run-out.

"Hilfenhaus said something to me which was quite unnecessary. It was out of the blue. He wasn't even bowling. I had just survived a run-out on 99. He said something to me which I can't say in press conference.

"I gave it back to him, (I said) you didn't have to do anything why would you do it," Kohli, who was the lone bright spot amid the ruins that resulted in India conceding a massive first-innings lead of 332, he told reporters.

Kohli stood by what he did and did not regret his action. "Ishant and I both came together and started saying, got stuck to them and he got really pissed (off). I usually play my cricket like that and I like to give it back. At the end of the day I was pretty happy with what I did."

It took an intervention from Ricky Ponting -- Kohli was seen being pulled away by the former Australian veteran in the middle -- that calmed the situation somewhat.

"He (Ponting) told me not to give it back or I would get in trouble. He was pretty much a help with that."