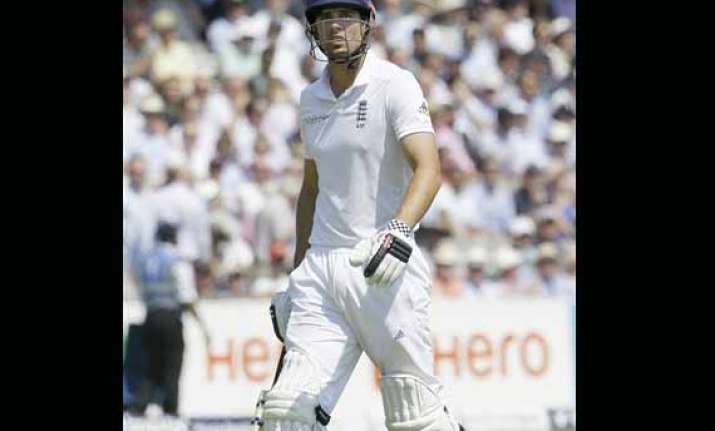 London: Is Alastair Cook, the England skipper, running out of luck and favor after being retained captain despite humiliating defeat at the hands of Australia in Ashes and later by Sri Lanka on its home soil…..? The answer with all probability could be yess…..
His captaincy is hanging by a thread. Alastair Cook came out to bat in the second innings with a real spring in his step, made his way through the Long Room at Lord's, and out to a generous round of applause.
He's a good guy, but how will he have slept last night? England gave him massive backing four days ago, but another poor performance with the bat yesterday may have left them no choice.
The England captain has made 129 runs in nine innings this year, and his run without a hundred extends to 26 over 14 months, after he fell for 22 here - following movement across him and edging Ishant Sharma behind to Mahandra Singh Dhoni.
He and Sam Robson have therefore yet to register a half-century opening stand, in seven attempts together.
Cook received a barrage of criticism over his leadership as his side blew yet another golden opportunity on Thursday.
Cook's tactics were labelled 'dreadful' and 'unfathomable' while former England opener Geoffrey Boycott said his side 'completely lost the plot' as centurion Ajinkya Rahane helped India add 150 runs in the evening session and England resorted to repeatedly bowling bouncers.
The England bowlers were more to blame for India wriggling off the hook on day one at Lord's but Cook's captaincy was still criticised by Boycott and former England captains Michael Vaughan and Andrew Strauss.
Strauss added: 'England have sat back here rather than make things happen. You can go a long way towards winning a game on the first morning at Lord's but you have to make things happen. I can't fathom some of the tactics.'