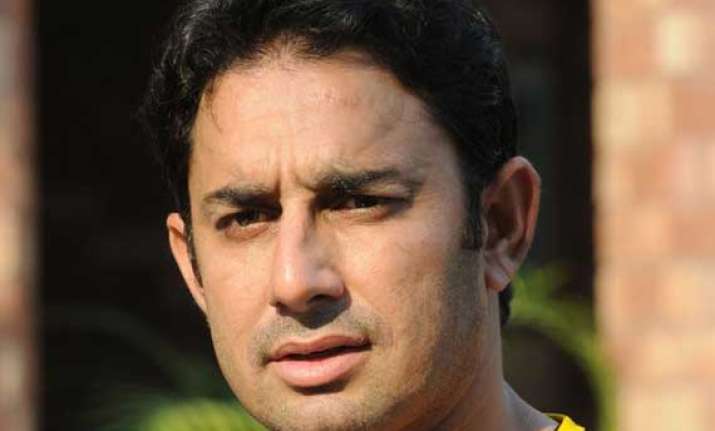 Islamabad :  Pakistan offspinner Saeed Ajmal says the only differences between national coach Dav Whatmore and his two Pakistani predecessors are the salary package and the language barrier.
Ajmal told the TV sports channel Geo Super late Tuesday that former Pakistan internationals Waqar Younis and Mohsin Khan had handled the players very well during their coaching stints, while Whatmore—an ex-Australia test batsman who has previously coached the Sri Lanka and Bangladesh national teams—"doesn't have knowhow of our language."
"It's just the difference of money which we are giving to (foreign coaches), otherwise there's no difference," he said, defending the credentials of homegrown coaches.
Ajmal's comments come less than two weeks before Pakistan's test series against South Africa starts in the United Arab Emirates.
Whatmore was appointed coach in March last year by the Pakistan Cricket Board despite the fact that Khan had guided the team to victory against the then No. 1-ranked England in the test series in the UAE.
Ajmal said Mohsin "did very well" and knew exactly how to encourage his batsmen and bowlers. And he credited Younis with improving the fitness of the team, which also produced on-field results.
Ajmal made his test debut in July 2009 against Sri Lanka—four months after gunmen attacked a Sri Lanka team bus en route to a test match in Lahore, an episode which resulted in the suspension of international cricket in Pakistan.
Since then he has been an integral part of Pakistan team and taken 147 wickets in 28 test matches, all played away from home.
He was instrumental in Pakistan's success against England last year with 24 wickets in three tests and is expected to be a key player in the forthcoming series against South Africa, again in the UAE.
Whatmore isn't the first foreigner to coach Pakistan—his predecessors in the job include Bob Woolmer and Geoff Lawson. But Ajmal thinks the senior players should be consulted before coaches are hired, whether they be foreign or local.
"Players' understanding with the coach is very important," he said. "Players should be asked which coach you like so that he (the coach) is beneficial to the players, to the team and to the country."