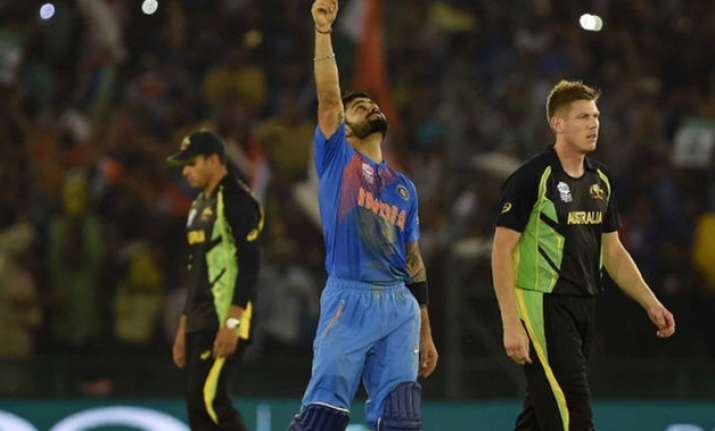 New Delhi: Twitterati was abuzz with praise for Team India's star batsman Virat Kohli after he single-handedly guided his side to the semi-finals of the ICC World Twenty20 with a master-class unbeaten 82-run knock in the must-win last group match against Australia in Mohali.
Batting maestro Sachin Tendulkar led the tributes for Kohli, terming his last night's innings as a "special" one.
Another batting legend Brian Lara said Kohli was an "unbelievable" batsman.
Kohli's team-mates Yuvraj Singh, Harbhajan Singh and Shikhar Dhawan also praised Kohli for his batsmanship and match-winning abilities.
"Well what can I say ! There are players who r in form and there is @imVkohli who wins you games again and again ! Hats of you beauty," Yuvraj tweeted.
Harbhajan added: "JEO KOHLI JEO MERA SHER.What an inn??????what a champion player u r my lil brother @imVkohli @BCCI ??????swad aa Gaya yara drallo drallllll?????????"
"Hats off to Virat's great knock!! Lots of learning from him!!??????," Dhawan tweeted.
Former Pakistan off-spinner Saqlain Mushtaq was also full of praise for Kohli.
"Great performance by India and a great innings by @imVkohli," he tweeted.
BCCI secretary Anurag Thakur tweeted: "Great effort @imVkohli. You've shown a great temperament. All the best Team India for semis. @BCCI."
Australian cricketers Glenn Maxwell and just-retired Shane Watson, who witnessed Kohli's brilliance from close quarters yesterday, said they were beaten by a cricketing genius.
Watson added: "@imVkohli What an absolute pleasure to witness that tonight. INCREDIBLE. Can't wait to finally be on the same team @RCBTweets. #waytoogood.