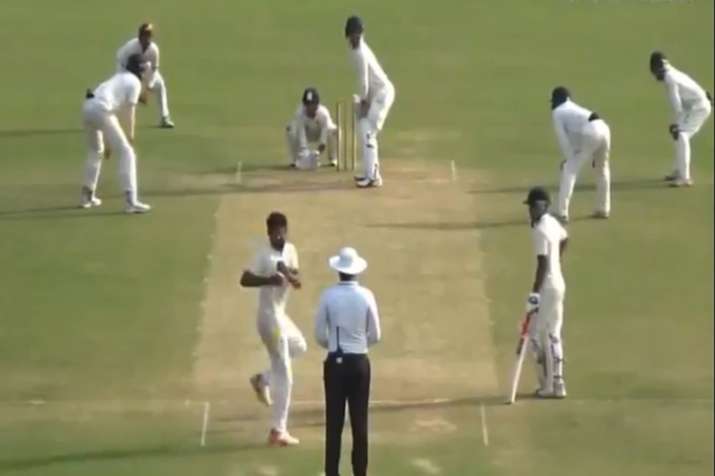 In today's world of big bats, shorter boundaries, two new balls and flatter pitches, bowlers are striving hard to come to terms with the skewed balance between bat and ball in cricket. Having an extraordinary bowling action can also come handy when you are faced with the uphill task of bowling in what is nowadays largely a batsman's game. A recent video posted by the BCCI on its website shows one such bowling action.
The clip shows a left-handed spinner bowling to a right-hander in what looks like a junior level match being played somewhere in the subcontinent. Everything appears normal in the bowler's run-up until he does a swift 360-degree turn just before delivering the ball. Although the opposition batsman plays the ball defensively with relative ease, the umpire calls it a dead-ball possibly arguing that the weird action can distract the batsman.
While the BCCI hasn't given any details of where and when the said match was being played, the video was also tweeted by legendary Indian spinner Bishan Singh Bedi on his page.
Weirdo...!! Have a close look..!! pic.twitter.com/jK6ChzyH2T

— Bishan Bedi (@BishanBedi) November 7, 2018
The video stands out for the fact that it wasn't the batsman who complained of any sort of distraction. Instead, the umpire took it upon himself to declare the ball dead. In fact, the batsman seemed as surprised as the bowler when the delivery was adjudged a dead ball.
It has also sparked the debate that the officials these days favour the batsmen more than the bowlers. Why else would a switch-hit be allowed and such a bowling action barred in cricket? After all the bowlers can complain of distraction when the batsman switches his stance after the field has already been set according to the original batting style. Bowlers would be right in arguing that if a switch hit is allowed, bowling styles like shown above should be legal too.