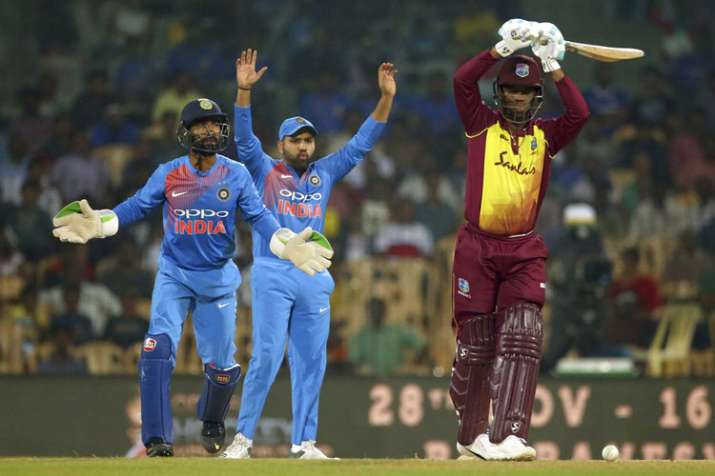 Former India star VVS Laxman was all praise for Rohit Sharma's captaincy after India's 3-0 whitewash in the T20 series that concluded on Sunday.
India have won all the series Rohit has captained in so far while standing in for regular captain Virat Kohli. Before the T20I series, India won the Asia Cup in UAE under Rohit as well.
Not only that, the Mumbaikar smashed a century in the second T20I in Lucknow as well to help his team thrash the visitors by 71 runs at the Bharat Ratna Shri Atal Bihari Vajpayee International Cricket Stadium in Lucknow.  
And Laxman was highly impressed Rohit's show as a captain against the 'mighty' West Indies in their preferred format. 
"I was again mightily impressed with Rohit's captaincy. He is becoming a semi-regular at the job, especially in T20 cricket, and handled his troops admirably. He is proactive on the field and has clear plans, but isn't afraid to improvise. He also continued to bat beautifully, and his fourth T20I hundred in Lucknow was one for the ages. I have seen few batsmen combine power and elegance with such nonchalance," Laxman wrote in his column for Times of India.
"Twenty20 cricket is the Windies' most preferred version, and they have shown their liking for the game's shortest format by winning the World T20 on two occasions. Against that backdrop, they will look back on the three-match shootout against India with a great deal of disappointment, and not merely because Rohit Sharma led the hosts to a 3-0 sweep," he added.
Laxman was also critical of Windies' batting performance in the series, where they failed to put up big scores. According to him, the visitors still had enough firepower even without the likes of Chris Gayle, Andre Russell and Evin Lewis in the squad.
"Even though the Windies were without some of their big names, there still was enough firepower and potential in the emerging batsmen to leave their imprint. But they let themselves down in the first two games with questionable shot selection and a distinct discomfort against the left-arm wrist spin of Kuldeep Yadav. 
That their best batting performance came in the last match in Chennai, for which Kuldeep was rested, is telling. Even that, however, was not enough for them to leave Indian shores with a consolation victory," Laxman said.
He also praised Rohit and Shikhar Dhawan for taking up the onus upon themselves in the absence of Kohli and Mahendra Singh Dhoni. The 44-year-old was left disappointed with the performances of Darren Bravo and Kieron Pollard, who failed to bail West Indies out of trouble and lead from the front like their counterparts.
"The difference between the sides was in the performance of the senior batsmen. While Rohit and Shikhar Dhawan masterminded India's dominance, the Windies didn't get like results from Darren Bravo and Kieron Pollard. Especially given the lack of penetration in the bowling - apart from the exception of the exciting Oshane Thomas - the visitors were heavily dependent on their batting. When that department didn't deliver, they really had little chance," Laxman opined.
Dhawan, who struggled to score runs throughout the ODI series, scored 92 off 62 balls in the final game to help India edge past the visitors in a last-over thriller.
"It was wonderful to see Shikhar get back among big runs ahead of the tour of Australia, and his partnership with young Rishabh Pant all but sealed the deal in Chennai. However, Pant must understand that what is his strength can easily lead to his downfall if he is not careful. While it is imperative to embrace natural freedom, he will be well advised to play high-percentage strokes, more so when he is adept at doing so," Laxman asserted.
Laxman concluded by praising Jasprit Bumrah and Kuldeep Yadav for upping their game and leaving the West Indies batsmen reeling in the limited-overs format.
"Jasprit Bumrah was excellent as ever while Kuldeep is clearly among the best bowlers in white-ball cricket. What was pleasing was his control, even as he unfurled his vast bag of tricks. That the Windies batsmen had little clue which way the ball was turning was the perfect reflection of Kuldeep's mastery over his craft," said Laxman.