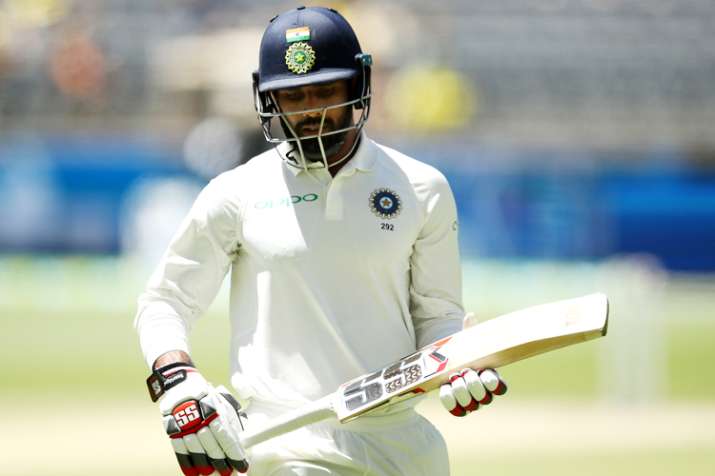 Former India batsman VVS Laxman on Wednesday said that it was unfair and unfortunate for Hanuma Vihari to open the innings in the ongoing third Test match between India and Australia in Melbourne. Vihari, who is a regular middle-order batsman, had to open for India alongside debutant Mayank Agarwal at Melbourne Cricket Ground on Wednesday after the visitors dropped openers KL Rahul and Murali Vijay following their prolonged dry run.
However, it was a short stay at the crease for Hyderabad-based Vihari, who was dismissed on just 8 off 66 balls in his 40-run stand with Agarwal but they batted out 18.5 overs, India's longest opening stand in terms of balls faced in Test cricket across Australia, New Zealand, England and South Africa since December 2010.
Vihari took 25 balls and 33 minutes to score his first run as he batted with patience, which was lacking in previous opening partnerships in the first two Tests.
He was hit on the helmet in the 13th over off Cummins as Australia started bowling short and attacking the batsmen more. 
The makeshift-opener shrugged it off and went on to face 66 balls, the second highest for an Indian opener in five innings this series.
Laxman expressed his disappointment over the team management's decision to ask Vihari to open the innings.
"That's where as a team management you invest and support a player (so that)... the next Test he plays he can turn it around. It's really unfair and unfortunate for Vihari to open in an international match. He was never done that in first-class cricket or any form of cricket," Laxman told ESPNCricinfo.
Laxman also said that he was surprised to see India's choice of the new opening pair, while adding that the team management should have backed Vijay.
The combination of Agarwal and Vihari was India's sixth opening pairing in 2018, and fifth in 11 overseas Tests this year.
"I'm very surprised with the opening combination. Especially on this tour, where Australia have got three quality fast bowlers, the importance of playing out overs and seeing off the new ball so that the middle-order batsmen can come and play their style of cricket... so I am surprised," Laxman said. 
"While Mayank Agarwal would have been an automatic choice, particularly when keeping in mind that Prithvi Shaw is out of the series and KL Rahul is struggling with his confidence level, I felt that Murali Vijay showed a glimpse of what Murali Vijay can do," he added.
Meanwhile, Debutant Agarwal provided the base with a confident half-century before Virat Kohli and Cheteshwar Pujara steered India to a solid 215/2 on day one.
Agarwal, added into the squad following failure of KL Rahul and Murali Vijay, responded with a 76-run knock off 161 balls, sorting out India's opening woes to some extent.
(With PTI Inputs)