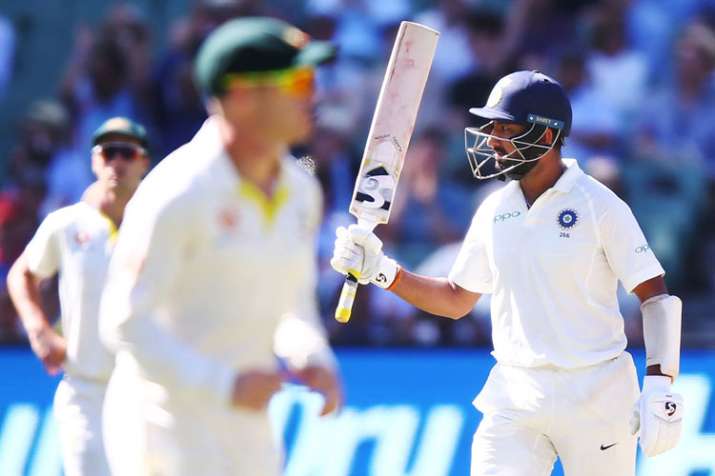 India vs Australia, 3rd Test, Day 1: Hello and welcome to our live blog of India vs Australia 3rd Test being played at the Melbourne Cricket Ground (MCG). India has dropped both its opening batsmen among three changes for the third Test against Australia at the MCG beginning on Wednesday. K.L. Rahul and Murali Vijay, as well as paceman Umesh Yadav, were those replaced in the lineup. Offspinner Ravichandran Ashwin was again ruled out, having not fully recovered from the abdominal strain that sidelined him in the second Perth Test. Left-arm spinner Ravindra Jadeja comes into the XI after missing the first two Tests, batsman Rohit Sharma has been recalled and Mayank Agarwal is set to make his debut. (IND vs AUS 3rd Test SCORECARD | Read in Hindi)
When, Where and How to Watch IND vs AUS 3rd Test Live Stream Online and TV Coverage
India vs Australia, 3rd Test, Day 1 from Melbourne: INDIA 215/2 at Stumps
12.55 IST: So, 215-2 then! A terrific Day 2 beckons on Thursday. Will the Indian mainstays of Kohli and Pujara continue their stay and push India towards a mammoth first innings score or will the Aussies come hard at them in the morning and have a say of their own on an MCG wicket that looked pretty lifeless and with some variable bounce on Day 1? Join us to find it all.
12.50 IST: Pat Cummins looked the best out of all the bowlers used today and he has been rewarded with both the wickets that fell today. The rest of the bowlers haven't looked like picking wickets but have done well to stop runs. Surely, the injury to Nathan Lyon has affected them a bit and helped the visitors' cause a bit more. Mitchell Marsh was surely a good selection as bowling with just 4 bowlers on this wicket would have been really exhausting and considering the small turnover time between this Test and the next, there could have been some niggles to the faster bowlers had they been overused.
12.45 IST: What a wonderful day of Test cricket. Definitely, India will head into the pavilion as the happier side but Australia will not be too disheartened. They have bowled wonderfully and restricted the scoring rate to less than 2.5 rpo. The pitch has looked demon less so far and the batsmen who are willing to spend time at the crease, will surely find a way to score runs. All the Indian batsmen so far have played more than 60 balls. Mayank Agarwal on debut, made a pleasing 76, especially considering the failures of the Indian openers so far in this series. Vihari looked solid in his stay but could make only 8 runs. The duo of Pujara and Kohli who are unbeaten at Stumps have looked solid, more so the former who just hasn't given an inch.
12.31 IST: Last ball of the day, huge cheer as Starc charges in to bowl it. Bowls a 147 kph ripper full outside off, almost too full. Kohli tries to put bat on ball but fails to do so. That brings to end a great day of Test cricket. STUMPS ON DAY 1, INDIA ARE 215-2!
12.29 IST: DOT BALL! The new ball is absolutely troubling the Indian skipper as he has played consecutively 22 balls. IND 215/2 in 88.4 Overs
12.20 IST: BYES! FOUR! What happened there? The ball on a length has taken off out of nowhere. Slightly fuller on good length and coming in, the ball races off and swings wildly after passing Kohli. Paine has no chance to catch this one and the ball runs away for four byes. What bowling this, at the fag end of the day. IND 213/4 in 86.3 Overs
That has done PLENTY!

What about the reactions from Starc and Kohli 😂😂 #AUSvIND pic.twitter.com/9Y1pG9dkKx

— cricket.com.au (@cricketcomau) December 26, 2018
12.19 IST: DROPPED!  Wide outside off after the ball coming in, Kohli goes chasing and gets an edge on this. This looks like it won't carry to Paine behind but it does just about. The keeper dives to his right and tries to take it but can't hold on. Very tough chance this but these are the ones if taken, that can change the course of matches. IND 209/2 in 86.2 Overs
12.14 IST: FOUR! Great adjustment and control from the Indian number 3 bat. Short outside off and Pujara hangs the bat outside off from within the crease and places it beautifully for a boundary through the gap between slip and gully. IND 209/2 in 85.1 Overs
12.08 IST: Quick! 144 plus clicks. But the line is outside leg and Pujara misses his flick and the ball goes for a bye as Paine can't collect the ball properly. Is it a set plan to get Pujara caught down leg? Like in the second Test. IND 203/2 in 84.1 Overs
* A full packed stadium is witnessing the Boxing Day battle between India and Australia
A final crowd of 73,516 on the opening day of the Boxing Day Test! #AUSvIND pic.twitter.com/gkKU5CZELm

— cricket.com.au (@cricketcomau) December 26, 2018
12.09 IST: It's a maiden over from Hazlewood and Virat has to wait to reach his fifty. IND 202/2 in 84 Overs
* Josh Hazlewood to share the new cherry.
12.02 IST: Fuller and at the pads, Kohli flicks it away in the gap towards deep square leg and comes back for an easy two. 200 up for the visitors. IND 201/2 in 82.5 Overs
* Mitchell Starc comes back to attack replacing Mitchell Marsh.
* Australia have finally taken the new ball two overs later.
11.50 IST: FOUR! And every now and then, there is a show of brilliance from the number 1 batsman in the world. Full and on middle, effortlessly driven away wide of mid on for a boundary by Kohli. No stopping those. IND 197/2 in 80.5 Overs
11.44 IST: FOUR! Cheteshwar Pujara this time, he transfers his body weight well and guides the ball towards the boundary rope in the gap. IND 192/2 in 78.1 Overs
11.42 IST: FOUR! Gorgeous! Very full outside off, Kohli drives this into the gap wide of mid off and the ball races away to the fence. These cover drives are an absolute treat to watch. IND 188/2 in 77.2 Overs
* New Ball Due in 3 overs
11.34 IST: Only run from 75th over and Pujara and Kohli are now settled to take India to a big total. IND 182/2 in 75 Overs
* A short clip of Pujara's another masterclass.
Patient Pujara with another Test half-century!#AUSvIND | @Domaincomau pic.twitter.com/o0FfVLsI8p

— cricket.com.au (@cricketcomau) December 26, 2018
* The physio is out in the middle to have a look at Pujara's fingers. Hopefully, it isn't anything serious and he should be okay to continue.
11.22 IST: Ouch! This one has rared off a length and the ball has got his fingers. Must be hurting him as he moves away from his stumps and removes his gloves to have a look. IND 174/2 in 72.3 runs
* Pat Cummins comes on to bowl, replacing Mitchell Marsh.
* NOT OUT! The impact is well outside off. The ball was landing outside off stump and the Indian skipper is well ahead to play this one. Gets beaten by the turn and hit on the pads.
11.12 IST: Kohli has been rapped on the pads, Lyon and the Aussies go up in a huge appeal. The umpire is unmoved but the hosts want to go upstairs for another look. IND 174/2 in 71.5 Overs
11.08 IST: 21st Test fifty for Cheteshwar Pujara! A fine knock from the no.3 once more. Toughening it out there when his side needs him the most. He just dabs this behind point and takes a single. Brings up the 50-run stand as well. IND 173/2 in 70.2 Overs
11.06 IST: Pujara plays it beautifully towards the cover and three runs to reach 49. IND 172/2 in 70 Overs
11.00 IST: Finally a bit of swing for Mitch Marsh and Virat Kohli leaves it for the wicketkeeper. IND 167/2 in 68.1 Overs
10.52 IST: FOUR! Edged and away! Starc is unlucky, unlike the batsman. It moves away late off the seam as Kohli reaches out for it. Plays away from his body and gets a thick edge which goes between first slip and gully. It runs away to the third man fence for a boundary. IND 164/2 in 66 Overs
10.48 IST: Unnecessary from Kohli. Starc is playing on his only weakness. He likes to feel the ball on his bat and the pacer is trying to exploit it. Full and wide outside off, Virat goes after it and mistimes it in front of point. IND 160/2 in 65.4 Overs
10.37 IST: FOUR! Width offered and gleefully accepted by Pujara. The ball was short and well outside off, Cheteshwar chases after the ball and lifts it over point for a boundary. Easy pickings for someone who has played more than 130 balls.  IND 159/2 in 64.3 Overs
10.36 IST: Edgy FOUR! It falls short of the slip fielder, but credit to Kohli as he plays it by taking his bottom hand off. Length ball outside off, Kohli hangs his bat and the edge is induced. It falls short of a diving Shaun Marsh and goes through him for a boundary. IND 151/2 in 62.4 Overs
10.34 IST: FOUR! Absolute Masterclass from King Kohli, he plays it beautifully for another boundary to light up the crowd. IND 145/2 in 62.1 Overs
10.33 IST: NASTY! Short ball from Mitchell Starc and it hits Pujara back but composed Pujara ran hard for two extra runs. IND 141/2 in 62 Overs
10.24 IST: FOUR! Overpitched from Cummins and he pays the price. Just around off, Virat Kohli beautifully drives it through mid on. Head gives it a chase and makes a lazy attempt to pull it back inside the rope. Ends up conceding a boundary. Should be doing better. IND 137/2 in 60.3 Overs
10.21 IST: Bouncer by Hazlewood and he passes a smile, while Pujara responds with the same reaction. IND 133/2 in 59.5 Overs
10.11 IST: FOUR! That's a well-earned boundary for Cheteshwar Pujara. Overpitched delivery around off, right in the slot for Pujara who doesn't think twice about whacking it away. Hammers it past mid off all the way to the fence. Super shot. IND 131/2 in 57.2 Overs
10.08 IST: Almost dragged it on! Pat Cummins is on fire. Could have has his third, that too of the Indian skipper. Good length delivery with some good pace on it, Kohli looks to defend but there's some slight nip inside. It takes the inside edge and whiskers past the leg stump. A couple of runs are taken. IND 127/2 in 56.5 Overs
10.01 IST: Kohli off the mark straightaway, fuller length and on middle. He takes a huge stride down and pushes the ball to the left of mid on for a couple. IND 125/2 in 55 Overs
* Day 1, Session 3 ... The players and umpires are back for the final session of play. About 35 overs are left to be bowled today. Virat Kohli joins Cheteshwar Pujara in the middle. Kohli will be on strike facing Pat Cummins, who has one delivery to go in this over.
*A tiring session for Australia, but that late wicket of Mayank Agarwal will have given them much to smile about. 66 runs were scored in 26.5 overs, with the Aussies having to toil hard, but Pat Cummins' late breakthrough has sort of brought them back into this game. Agarwal was playing well, scoring a finely-crafted fifty on debut, but was eventually undone by the short ball. There's plenty of batting left to come from the Indians, but the hosts would feel they can use this opportunity to make further inroads. Join us for the final session in a short while.
09.42 IST: OUT! GOT 'EM! Pat Cummins has struck gold. It's his second of the innings and it's the short ball which does the trick once more. Short ball a bit down the leg side, Agarwal looks to fend it away awkwardly, but the ball brushes the gloves and Tim Paine behind the stumps takes it well by moving to his left. A good knock from the opener comes to an end. TEA ON DAY 1! IND 123/2 in 54.5 Overs
09.38 IST: FOUR! It was a thick outside edge from Mayank's willow, luckily it went in the gap for the boundary. IND 123/1 in 54.3 Overs
* Archie Schiller receives Test cap from the GOAT
It was a special Baggy Green presentation for the Aussies this morning, as young Archie Schiller received his Test cap from his favourite player!#AUSvIND | @MakeAWishAust pic.twitter.com/gGA0gDAhUB

— cricket.com.au (@cricketcomau) December 26, 2018
09.27 IST: FOUR!The timing on it is fantastic. Full ball outside off, Agarwal nicely leans into the shot and drives it through the covers. Lyon chases after it, tries to pull it back in with a dive but just can't. His hand touches the rope while doing so and he himself signals to the umpire that it's a boundary. Fair play to him.  IND 119/1 in 52.2 Overs
09.21 IST: Mayank just guides the ball by opening the face of the bat and took quick double. IND 115/1 in 50.5 Overs
09.18 IST: 50 overs have been bowled by Aussie bowlers till now and they might be happy with the current run rate of India but they definitely need some wicket now. IND 113/1 in 50 Overs
* Debutant Mayank Agarwal took over Nathan Lyon very positively till now.
Agarwal on the attack against Lyon!

Watch live via Kayo here: https://t.co/0glOblMnaq #AUSvIND pic.twitter.com/M7KJpXu5XI

— cricket.com.au (@cricketcomau) December 26, 2018
09.06 IST: SIX! The first one of the innings and Agarwal has decided to go after Lyon. Probably the best way to play against the GOAT. Tossed up on the stumps, Mayank gives the charge, goes with the spin and slogs it over the cow corner for a biggie. IND 108/1 in 47.1 Overs
08.57 IST: 100 up for India, It has been the best start for India in this series, Mayank looks comfortable while Pujara is playing in his own way. IND 100/1 in 44.3 Overs
08.54 IST: FOUR! Very Nicely played, Pujara into his 30's with this late cut and Nathan Lyon seems upset with his bowling today. IND 99/1 in 43.5 Overs
08.49 IST: Back of a length delivery outside off, Pujara stays on the back foot and slaps it through the gap in the covers. Takes three runs and that brings up the 50-run stand between these two. Been a very good one till now. IND 91/1 in 42.5 Overs
08.46 IST: MAIDEN! Nathan Lyon stops Agarwal in this over. IND 86/1 in 42 Overs
* Nathan Lyon into attack
08.39 IST: Drinks have been summoned by the umpires. IND 86/1 in 41 Overs
08.30 IST: LOUD APPEAL! Flatter ball from around the wicket, Agarwal misses his flick and gets hit in line it seems. The ball may have just pitched outside leg and that is what makes the umpire say no. The Aussies appeal for a lot of time but do not go upstairs. The Ball Tracker confirms that the ball was pitching outside leg. IND 86/1 in 39.2 Overs 
08.23 IST: Excellent bouncer from Josh Hazlewood and Mayank looks uncomfortable for the first time in this innings. IND 83/1 in 37 Overs
08.18 IST: FOUR! There's his fifty! Maiden fifty and on Test debut in a Boxing Day Test at the MCG. Couldn't be better. Fuller ball and Agarwal hops down the track and hits it to the left of Lyon and all the way to the long off boundary. It has been a good innings but he needs to continue, there is a big one waiting for him out there. IND 80/1 in 36 Overs
08.16 IST: FOUR! Catch it is the call but the ball is well above the head of mid off and goes all the way for a boundary. Flighted ball on middle, Agarwal dances down the track and lifts the ball above mid off. Moves to 49! IND 76/1 in 35.2 Overs
08.09 IST: FOUR! Absolute Genius, The patience of Cummins seems to have gotten over here. He overpitches and Pujara latches onto it in a flash. He drives it beautifully and all the way for a boundary through the covers. First runs for Pujara after Lunch. Good over for India, 7 runs off it.  IND 71/1 in 34 Overs
08.07 IST: Mayank opens the face of the bat and uses the extra pace of Cummins, runs hard for three runs. IND 67/1 in 33.3 Overs
08.04 IST: DOUBLE! Finally, Mayank breaking the jinx and score runs for India after 26 balls. IND 63/1 in 32.4 Overs
08.00 IST: MAIDEN! It's back to back third maiden only 4 runs after the lunch in four overs. IND 61/1 in 32 Overs
07.53 IST: OUTSIDE EDGE! The ball comes in this time as Mayank plays it soft hand but the bat finds the edge and ball just land in front of Aaron Finch. IND 61/1 in 30.3 Overs
07.52 IST: MAIDEN! Cummins is on his lethal best as he bowls another maiden. IND 61/1 in 30 Overs
* Pat Cummins into the attack
07.43 IST: FOUR! Lovely shot to begin the session. Full and a half-volley outside off from Hazlewood, Agarwal leans into the booming drive and gets it in the gap. The ball is a little slow as it is about to reach the fence but eventually just makes it. Good start for the visitors in the second session. IND 61/1 in 28.2 Overs
* Day 1, Session 2 ...The two batsmen are followed by the bowling team as they make their way back onto the field of play. Should be an intriguing session of play, Mayank Agarwal to take strike first up.
*For the hosts, the stand-out bowler will have to be Pat Cummins. Actually he has been the only one to have extracted some help from the wicket, albeit by bowling short and aiming the bouncers well. He picked up the only wicket to fall as well. The rest have looked a bit rusty and will have to come back better after Lunch. That being said, they haven't given too many runs away and won't be entirely disappointed. The pitch does look a good one to bat on and one would suppose it could be a good toss to win as we even saw a couple of balls keep low, not carry through in the first session of a game. What is in store ahead? Come back and join us for the post-Lunch session to find out.
* A good session for India. Would have been even better if they hadn't lost the wicket of a very patient Hanuma Vihari, who played 66 balls for his 8 runs. He could argue that he did the job of seeing the new ball out but there was a great chance to get a big score out there with not too many demons in the wicket. Cheteshwar Pujara, who came to replace him, has looked really solid so far. But the man of the session will definitely have to go to Mayank Agarwal, who in his debut in a Boxing Day Test at the MCG has played really calm and sensible cricket. He has gotten himself to 34 and will be very pleased with the way things have gone so far. Looked comfortable against both pace and spin.
07.05 IST: Another dot ball to end the over and it is a maiden. THAT WILL BE LUNCH ON DAY 1 OF THIS THIRD TEST. IND 57-1 in 28 Overs
* Josh Hazlewood returns to attack replacing Starc
06.52 IST: Beaten! Good ball outside off and Pujara who was trying to feel the ball is beaten as the ball moves away slightly after landing. IND 53/1 in 25.2 Overs
06.44 IST: This one has kept low and the Aussies are asking the question. But the ball has come off the under part of the bat and then gone on to hit the pad. The umpire is unmoved and the home team decide not to go upstairs. IND 52/1 in 23.4 Overs
06.42 IST: It was the sixth short delivery of the over and  Pujara just fends it off towards the backward square leg fielder. Dot ball. IND 50/1 in 22 Overs
* Mitchell Starc comes back into the attack
06.36 IST: Outside off on a length and Pujara gets off the mark with a good shot towards deep backward point. The ball is wide enough for Che to cut and he plays it very late after getting on top of the bounce. Three runs till the ball is thrown back. IND 48/1 in 21 Overs
06.30 IST: Excellent delivery from Cummins, he looks the most dangerous bowler from Australia till now today. IND 44/1 in 20.4 Overs  
*Mitchell Marsh has been called onto bowl for the first time today.
* Cheteshwar Pujara is in at number 3, replacing Hanuma Vihari.
06.22 IST: OUT! Caught! The first one is gone and the short ball has done the trick! That was the only ball that was causing trouble so far. Cummins had hit the batsmen twice so far and the bouncers were well-directed. This one was perfect too. Vihari who took his eyes off the ball and was trying to duck couldn't get his gloves out of the way. The ball lobs up to Finch, who runs to his right from second slip and takes a very easy catch. Good effort bowling that from Cummins, need that on this kind of wicket. IND 40/1 in 18.5 Overs
06.19 IST: DOUBLE! Excellent leg glance from Hanuma Vihari, He looks confident in his own self. IND 40/0 in 18.3 Overs
06.09 IST: FOUR! Terrific shot to end the over. Similar to the first boundary he hit off the spinner. Wide outside off, Agarwal frees his arms and drives it hard in the gap and the ball races away to the fence. IND 36/0 in 16 Overs
06.07 IST: Loud LBW appeal by Paine and Lyon but umpires look uninterested in that. IND 31/0 in 15.2 Overs
* Drinks are on the field. And India haven't lost a wicket so far. This is by far their best opening show in the series. Agarwal as looked positive on debut and Vihari is as solid as you'd expect him to be, so the move to start things off with these two has paid off for India, so far. The Australians, the pacers in particular, need to better their lengths. Should be going fuller instead of bowling short on this opening Boxing Day Test. Pretty sure Justin Langer will have sent that message down during this break.
06.00 IST: Another nasty delivery by Cummins this time it hits near the shoulder of Mayank Agarwal. Cummins looks more dangerous by each passing ball. IND 31/0 in 14.3 Overs
05.59 IST: MAIDEN! Vihari is on 3 after 49 balls, slow but solid. IND 31/0 in 14 Overs
* The physio is out to have a look at Hanuma Vihari. He looks okay, but you never want to take any chances with head injuries. A new helmet has been called for too. He seems fine, which is a good sign.
05.51 IST: That's nasty! Cummins has caught Vihari on the helmet. That was a big noise as the ball struck the helmet. Not that short as Vihari looks to duck, looks to get under it but it goes off the helmet and bounces towards square leg. The batsmen take a leg bye. IND 31/0 in 12.3 Overs
* Pat Cummins comes into the attack replacing Josh Hazlewood
05.45 IST: DOUBLE! More runs for Vihari. Angling in on off, Hanuma plays it with the angle as he flicks it wide of short mid-wicket. Easy two for him. IND 28/0 in 10.4 Overs
05.39 IST: MAIDEN! Another maiden over from Josh Hazlewood. IND 26/0 in 9 Overs
05.35 IST: FOUR! Beautiful cover drive from debutant Mayank and he looks super confident in this innings. IND 26/0 in 8 Overs
05.33 IST: SINGLE! Vihari finally gets off to the mark after 25 deliveries. IND 22/0 in 7.4 Overs
* Nathan Lyon comes into the attack.
05.29 IST: BYES! FOUR! No bounce at all on this one. Wow. It was a bit short down the leg side, but it almost goes along the turf and past Tim Paine for another boundary. IND 21 in 6.4 Overs
05.27 IST: FOUR! It was in the air and Mitch Marsh couldn't take it and it's the first boundary of the innings. IND 17/0 in 6.3 Overs
05.26 IST: Excellent timing but still no run for Hanuma Vihari. He drives it down the ground, but mid on moves to his left and cuts it off with a dive. IND 13/0 in 6 Overs
05.20 IST: DOUBLE! Another confident shot from Agarwal. He's looking fearless here. He comes forward to this full ball and offers a firm punch through the covers. Gets two more to his name. IND 13/0 in 4.5 Overs 
05.15 IST: Lovely timing on that. Mayank Agarwal waits for it as the ball comes in full and too straight in line, he flicks it through mid-wicket with good balance. Marsh chases it down, but the batsmen get three runs. IND 7/0 in 3.3 Overs
05.13 IST: DOT BALL! Only one run from the over Hanuma is yet to get off the mark. IND 4/0 in 3 Overs
05.10 IST:  Short of a length into the body, nudged fine down the leg side for a single. IND 4/0 in 2.2 Overs
05.07 IST: First runs of the morning and this Test match. First runs for Mayank Agarwal in Test cricket and the huge Indian support in the crowd gives him a big round of applause. Full and outside off, Agarwal takes a good stride forward and plays a punchy-drive through the covers for three runs. IND 3/0 in 1.4 Overs
* Josh Hazlewood will bowl from the other end and Mayank Agarwal will face the first ball of his career.
05.04 IST: DOT BALL! And it's a maiden from Mitchell Starc. IND 0/0 in 1 Over
05.01 IST: FULL TOSS! Hanuma Vihar looked calm and composed while facing his first ball as an opener. IND 0/0 in 0.1 Overs
05.00 IST: The MCG crowd is ready, we're ready, and we hope all of you out there keeping up with us and the match are too. A wonderful day with the sun shining, as Hanuma Vihari and debutant Mayank Agarwal stride out to bat. Mitchell Starc as always will take the new ball first up. Three slips and a gully in place. Here we go...
04.50 IST: Time for the national anthems. Both teams are lined up side by side and we will begin with the visitors'.
04.44 IST: Captain's Speak
Virat Kohli: We will make the first use of this surface. This pitch looks like a nice surface but it looks bit dry. So, it is going to be slower and slower. We are taking this Test as the last Test of this tour. We want to be at our best for this match. We have made three changes to the team.
Tim Paine: I wasn't too sure what to do so I am happy to be bowling. We have a pretty inexperienced group so a win certainly helps. I would have laughed if someone would have told me last year that I will be the skipper for the Australian team in the next Boxing Day Test. Archie wanted to bat 100% but I told him that I was not entirely sure.
04.35 IST: Playing XIs: 
India: Mayank Agarwal, Hanuma Vihari, Cheteshwar Pujara, Virat Kohli(C), Ajinkya Rahane, Rohit Sharma, Rishabh Pant (WK), Ravindra Jadeja, Mohammed Shami, Ishant Sharma, Jasprit Bumrah
Australia: Marcus Harris, Aaron Finch, Usman Khawaja, Shaun Marsh, Travis Head, Mitchell Marsh, Tim Paine (WK/C), Pat Cummins, Mitchell Starc, Nathan Lyon, Josh Hazlewood
04.30 IST: TOSS! India win toss, opt to bat against Australia in Melbourne. The 4-match series is locked at 1-1
Brief Preview: Both India and Australia will aim to take a lead in the four-match Test series, currently levelled 1-1, when they square-off in the much awaited Boxing Day clash at the Melbourne Cricket Ground (MCG), starting here from Wednesday. While India on Tuesday dropped both its openers -- Lokesh Rahul and Murali Vijay, Australia made one change to their playing 11, bringing in Mitchell Marsh in place of Peter Handscomb for the third test of the Border-Gavaskar series. (Read Full Preview)