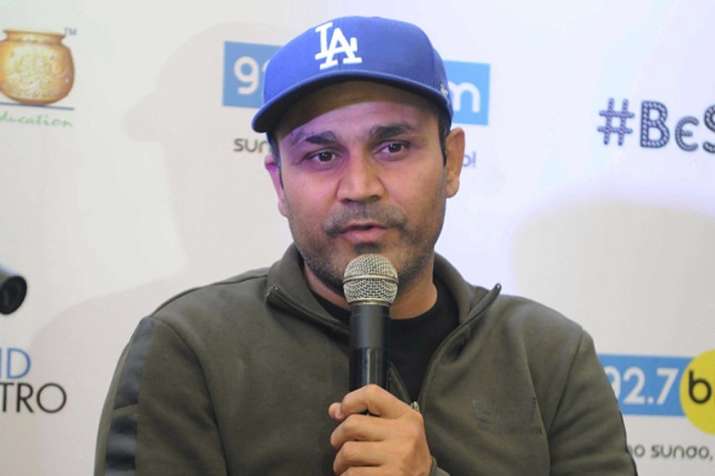 With the beginning of every new year, we all welcome inevitable optimism of fresh starts and new beginnings which perhaps give us a sense of belief that we can pull things off. Some might think - perhaps this year really will be the year you go to the gym every day, or stop eating a block of cheese a week, or learn how to hand glide... or maybe it won't be. But nevertheless, it's hard to ignore the great New Year's Eve tradition of making a resolution or two.
In a recent chat during show Cricket Ki Baat, former India opener and India TV's cricket expert Virender Sehwag has now revealed his new year resolution. Sehwag who was famous his aggressive batting approach has now created a huge fanbase with his witty commentary. Behind the mic, the Nawab of Nazafgarh is known to speak his mind and just like his uninhibited style of batting enthrals his fans world over. 
Speaking about his new year resolution for 2018, the 39-year old Sehwag mentioned that "he is planning to take a break from the commentary box". Since making his debut in Hindi commentary, Sehwag has come up with interesting comments full of quirks and quips. With his tongue-in-cheek humour and one-liners, the swashbuckling opener has surprised many with his unique gift of the gab.
Earlier, Sehwag has expressed his confidence that captain Virat Kohli will lead from the front during the three-match Test series against South Africa, starting on January 5.
"I am sure Virat Kohli will lead from the front. He will score a lot of runs," Sehwag, who is India TV's cricket expert, spoke on "Cricket Ki Baat" show.
Following a successful home season that saw India routing teams like England, New Zealand and Sri Lanka, Kohli-led India are set to begin their away season. India will first face South Africa in an entertaining series, including three Tests, six ODIs and three T20Is, following which they are scheduled to tour England and Australia.
Talking about how important this season is going to be for Kohli, Sehwag said: "The year 2018 is starting with a big challenge. The tour of South Africa will be India and Virat Kohli's biggest challenge this year. If Virat manages to win the series, he will be the first Indian captain to do so."
"As a captain, you need to have a clear strategy in place in South Africa... how to get rid of their batsmen, how to handle their fast bowlers. It is important to implement them on the field," Sehwag added.