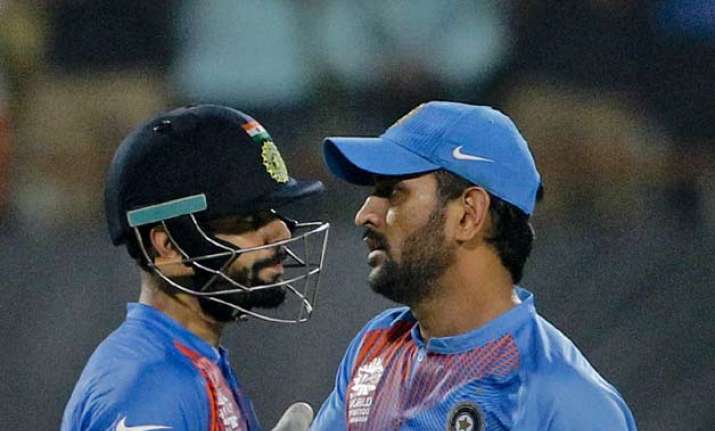 New Delhi: India's ODI and T20 cricket skipper MS Dhoni may be one of the highest paid brand endorsers in the country but when it comes to peddling the willow, brand Kohli scores over brand Dhoni.
While Dhoni gets around Rs 6 crore to put a Spartan sticker on his bat, Test captain Kohli, who uses an MRF bat, gets around Rs 8 crore for the same, the Times of India reports.
The Delhi batsman also gets paid around Rs 2 crore for endorsing apparel and shoes on the pitch.
When it comes to endorsements off field, Dhoni rules the roost with Rs 8 crore while Kohli pockets around Rs 5 crore.
Suresh Raina and Rohit Sharma, who sport Ceat stickers on their bats, earn Rs 2.5-3 crore and Rs 3 crore, while Ajinkya Rahane rakes in around Rs 1.5 crore for his bat footwear and apparel together. On the other hand, Indian opener Shikhar Dhawan, whose bat is sponsored by MRF, pockets around Rs 3 crore, the report says.
Even international stars like AB de Villiers and Chris Gayle who have huge following in the country, also charge big money.
While the price of a sticker on South African cricket star de Villier's bat is estimated to be at around Rs 3.5 crore, West Indian opener, Chris Gayle gets around Rs 3 crore from his deal with Spartan, whose bat he endorses.