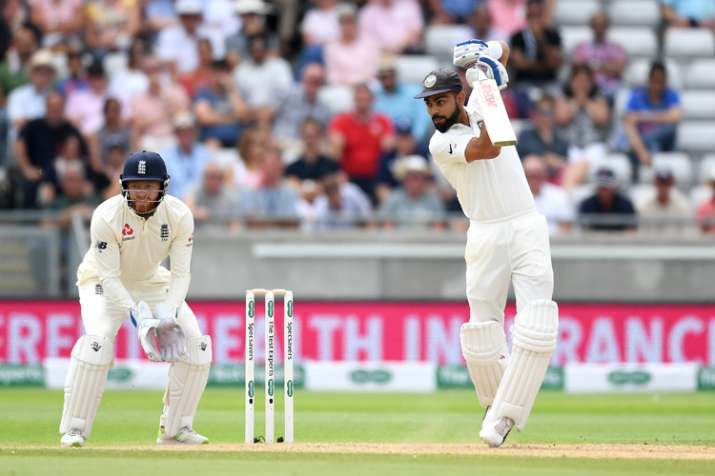 After hitting a gritty match-changing knock of 149 runs on the second day of the first Test against England in Birmingham, Indian skipper Virat Kohli in an interview with Bcci.tv shared his thoughts at the end of the day.
Regarding what he was thinking while constructing his innings, the maverick said: "I try to prepare the best way possible as I can and just help my team as much as possible. It wasn't only important to get to the three-figure mark but also to continue from there on."
Kohli admitted that he would have loved to take even a slender lead over England before his team fell short of matching their score by 13 runs. He said: "I was very disappointed when I got out as well because I thought we could take 10-15 runs lead. But in hindsight, we wouldn't have been able to bowl so I just accept what God's blessed on me. I am just very happy with my preparation and not worried about the world."
Talking about how he was able to play so well despite his teammates falling one after the other at the other end, the Delhi-born batsman said: "Well it was difficult but I told myself that its important to enjoy this, take it upon me as a challenge to take the team far and the innings deep. It was a test of physical and mental strength.
"But I am glad that we could come close to their total and we are pretty much in the game, so when you can help the team that way it obviously feels great."
With India being 100-5 at one stage and only Hardik Pandya and R Ashwin to follow as far as recognised batsmen are concerned, Kohli found some able support in Pandya and the tailenders Umesh Yadav and Ishant Sharma. The captain praised their efforts and said that he was immensely proud of the way they supported him.
"I have to commend the tail as well. Hardik batted really well after we lost five and the way Ishant and Umesh applied themselves I think it was an outstanding effort from them also. So I have to give a lot of credit to them for getting us this close because they got stuck in there and supported me really well and I could feel confident about them which is very important.
"I am very very proud of both of them (Ishant and Umesh) and very happy with the effort," added the No.2 ranked Test batsman.
When Virat was asked whether this knock ranks as his best in his illustrious Test career, he said it would be a close second to his 141 at Adelaide in 2014.
"I'm not sure but this could probably come in second to Adelaide. The Adelaide knock still remains very special to me because it was the second innings and we were chasing a target and I had total clarity that we were going for the target and not once we thought otherwise. That was a beautiful zone to be in but today I am very happy and grateful for having this opportunity to help the team this way and pull us back in the Test match and compete. That's what we are here to do - to compete and fight - and we are going to keep doing that," he concluded.